Our first 48 hours with Kammok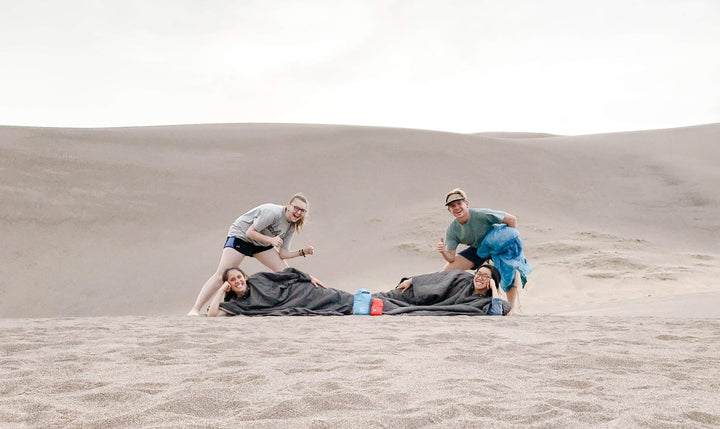 On June 5, 2018, four of the six Kammok summer interns left Austin for Vail, Colorado on day two of their internship -- a quick road trip and an early dive into Kammok's core values of adventure, community, and love.
Hi, my name is Rebecca Chen, and I'm an advertising major at UT Austin. I'm Kammok's Customer Experience Intern this summer and am the girl on the far right who looks like a flightless bird.
The people to the left of me are other Kammok interns. Short intros for each (from left to right):
Addie Ott: Content Creation Intern, photography major at SCAD, serious fan of Coca Cola
Emily Cameron: Development + Operations Intern, freshly minted business graduate from Furman, avid soccer player and poncho-wearing gal
Tanner Levesque: Field Marketing Intern, marketing major at UT Austin, once aspired to be a Fushigi master in 8th grade
Just 24 hours after meeting each other, Addie, Emily, Tanner and I hopped into a van for the 16 hour haul to the GoPro Mountain Games.  After six meals straight of luggage-pressed sandwiches and hours of listening to our road trip playlist, we arrived in Colorado -- with too few hours of sleep but ready to tackle the Games and the summer together.
We left Kammok HQ at the crack of dawn on Tuesday in our big white van, aka Dunebug, crammed with Kammok gear and food for two days.


Our first stop: Cadillac Ranch. After eight plus hours in Dunebug, we took a pitstop to reward ourselves for almost making it out of the never-ending Texas Panhandle.


Emily and Tanner were stoked to be out of the van.
After passing the Colorado border, we made a detour to visit the Great Sand Dunes National Park. We were grateful for landscape other than flat Texas plains (though we love Texas).




We ditched our shoes and walked towards the top of the dunes to find untouched sand. Different travellers surrounded us: families with kids sliding down the dunes with only the clothes on their backs and other young people with their makeshift sand boards.

 


Finally, we reached the top. Addie embraced the winds.
We stopped to collect some product photos, one of our first projects as interns. Tanner's our resident jack of all trades.
I put my modeling skills to use -- posing on the sand, sporting the Field Blanket, and holding a Roo Double and Python Straps. Just some candid product placement for the Kammok Instagram.
At 6 am the next morning, we woke up to a stellar view of the mountains and river beside our campsite in Salida, CO -- something we had missed when we set up our campsite at midnight the night before.  Addie got right to work, editing photos from our drive, and Tanner and Emily cooked up some breakfast tacos.
We packed into Dunebug for the two hour drive to Vail, Colorado. We could already sense a little bit of magic forming within our group.
Along the way, we squeezed in visits to Noah's Ark, Buena Vista, Turtle Rock, and Twin Lakes. The tent at Twin Lakes had an awesome view. Future camping spot? We think so.
After two days of travelling, packed like sardines in Dunebug, we made it to Vail. 72 hours together on the road, exploring the land between Austin and Vail, seemed like way more time -- and we already felt a strong sense of comradery with each other -- built on our shared experiences of sleep deprivation and long hours of driving towards beautiful mountains and alpine lakes.   
We'll be at Kammok for the next ten weeks and will be sure to share more of our journey with y'all.
Until then, hang loose, Kammok crew.
[Check out our trip back: The journey home] Collection 2019 Sale 70% Off Title for image