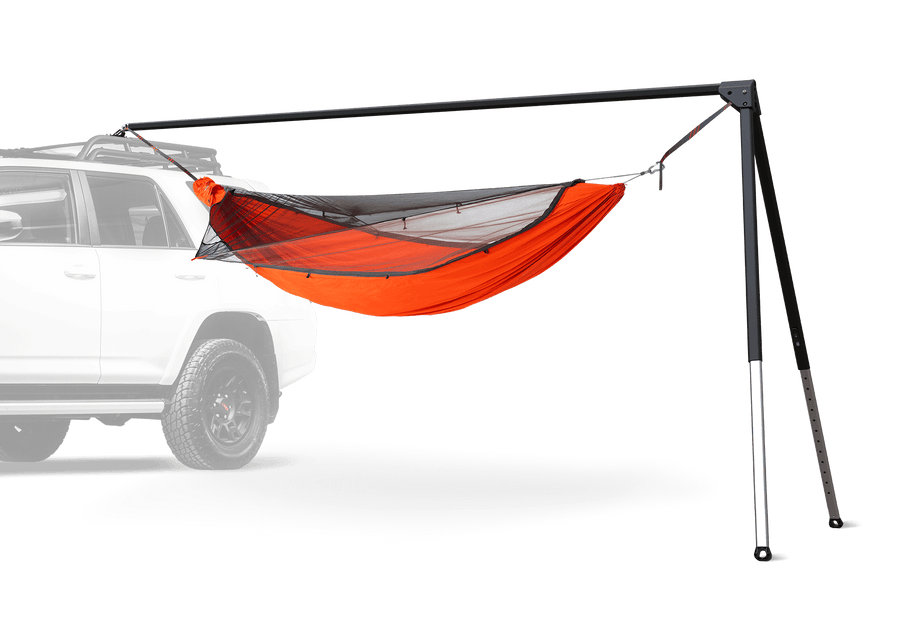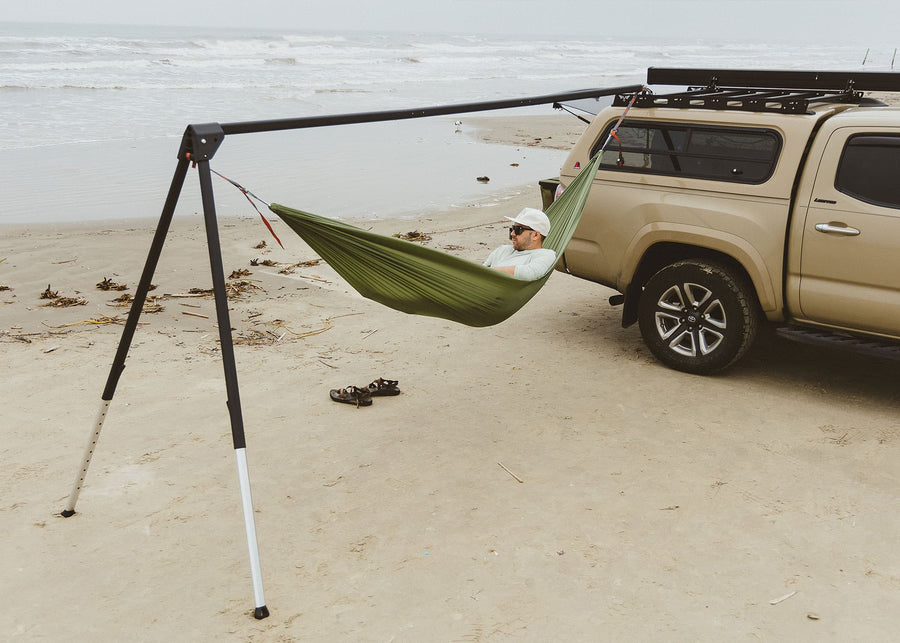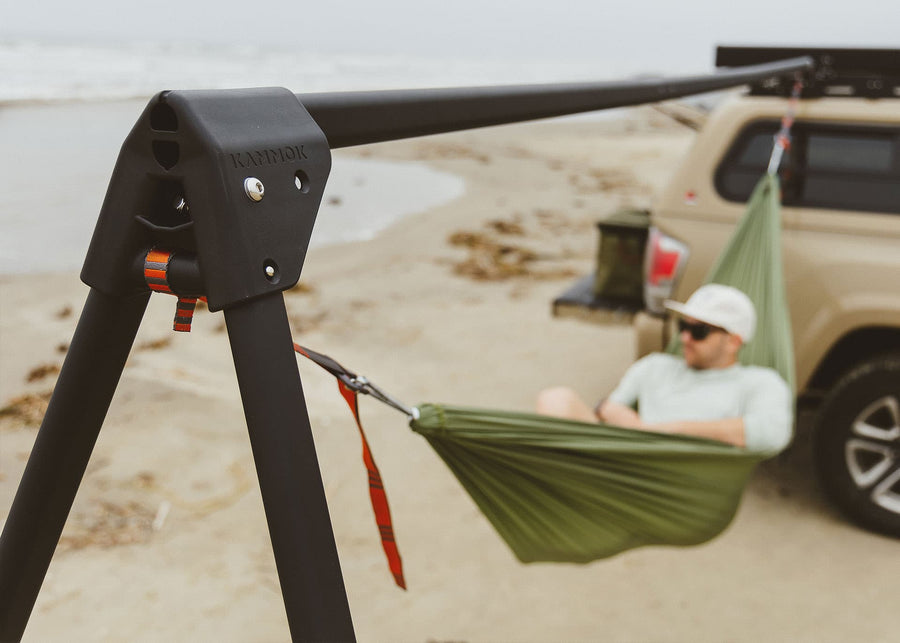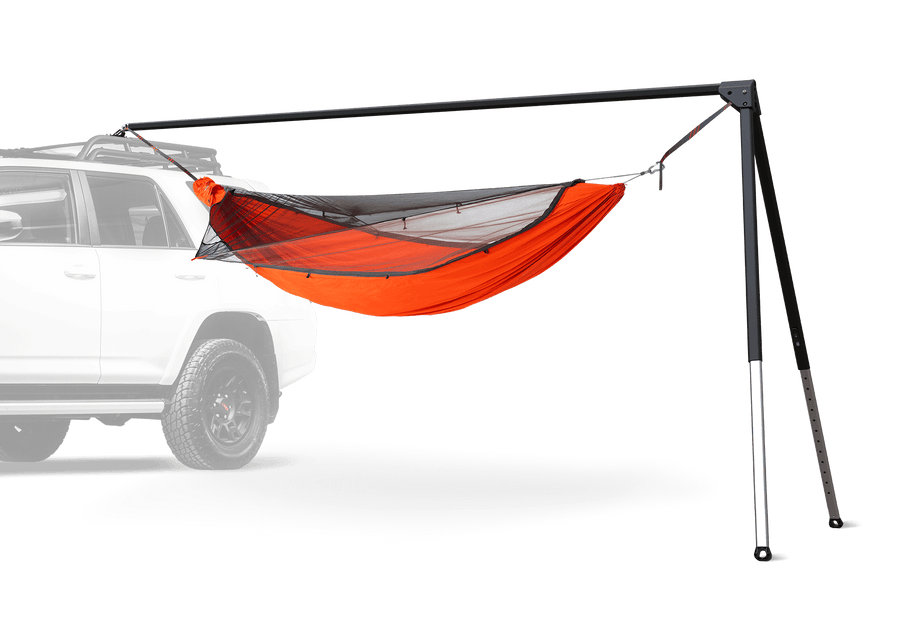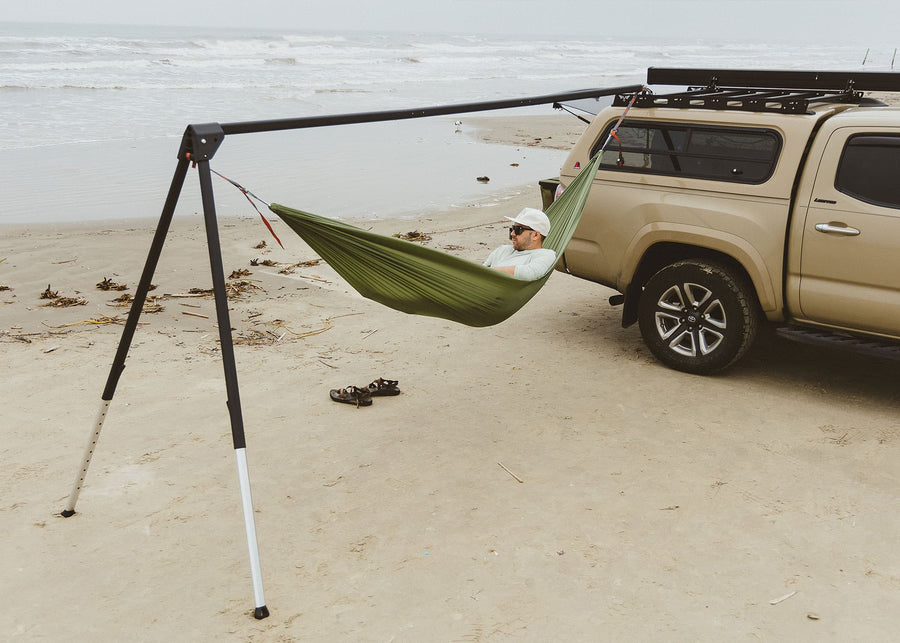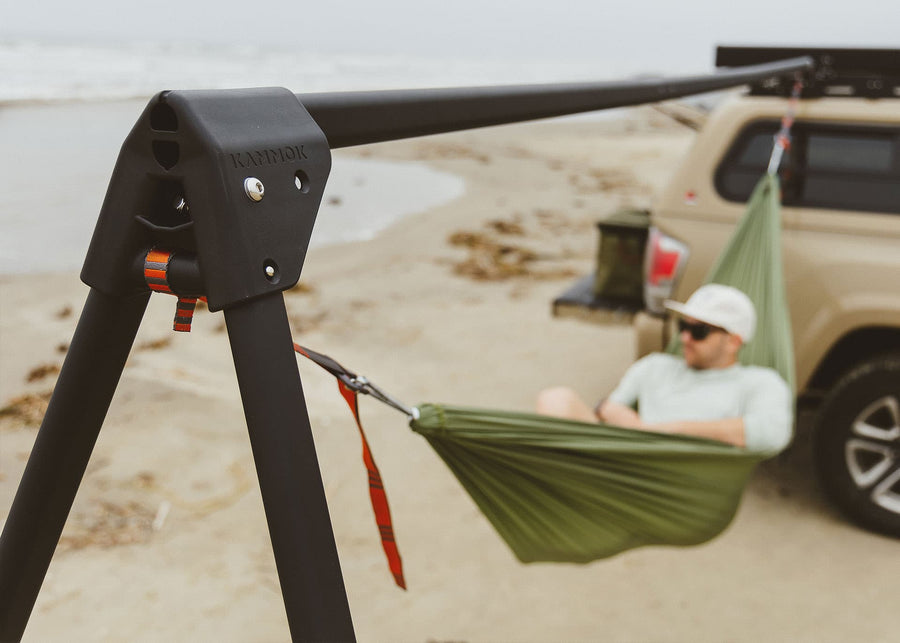 Sale price
$499.95
Regular price
Outpost takes the guesswork out of hammock set up so you can start relaxing in under a minute. Mounting hardware included.
The Outpost is the ultimate overland hammock stand for off-grid adventures. Wherever your vehicle roams, enjoy a weightless sleep under the stars.
All-Terrain
Capable
Weather-resistant
Durability
Portable and
Compact
60 Second
Setup
Lightweight, compact, and adjustable for any environment, the Outpost vehicle-mounted hammock stand allows you to take hammock camping into tree-less terrain.
Watch this video to learn more about Outpost.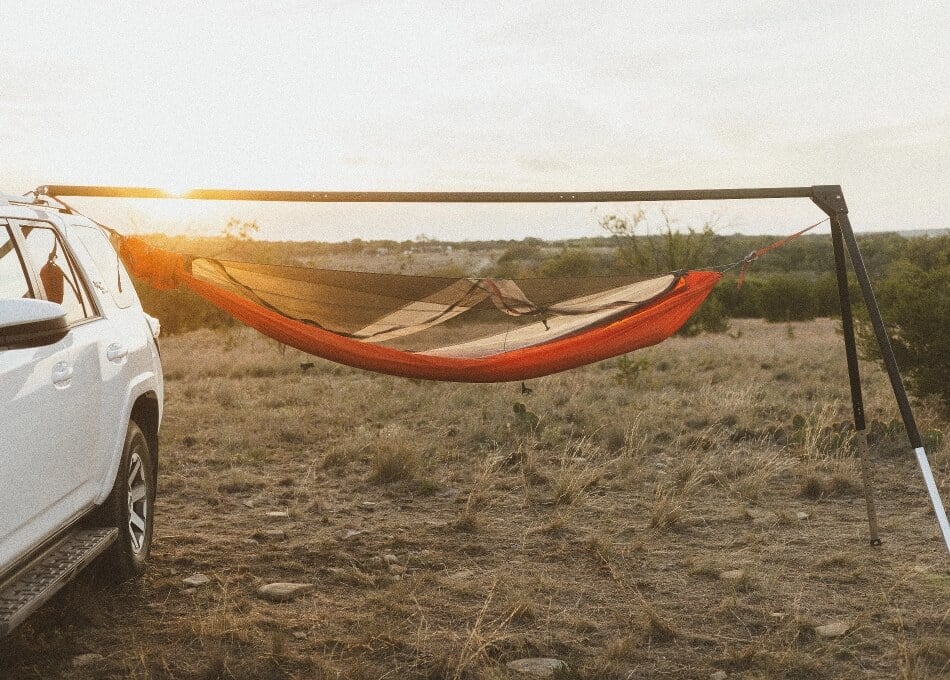 Any Hammock, Anywhere
Outpost is compatible with Mantis, Sunda, and our complete Roo line.
Setup Made Simple
Outpost has a light and compact aluminum frame, making setup and transport a one-person job.
Endlessly Adaptable
Telescoping legs are fully adjustable so Outpost can adapt to any vehicle in any terrain.
Made to Move
The quick-release ball hitch makes attaching Outpost to your vehicle quick and easy and allows you to rotate your hammock setup wherever convenient. Check our vehicle compatibility guide here.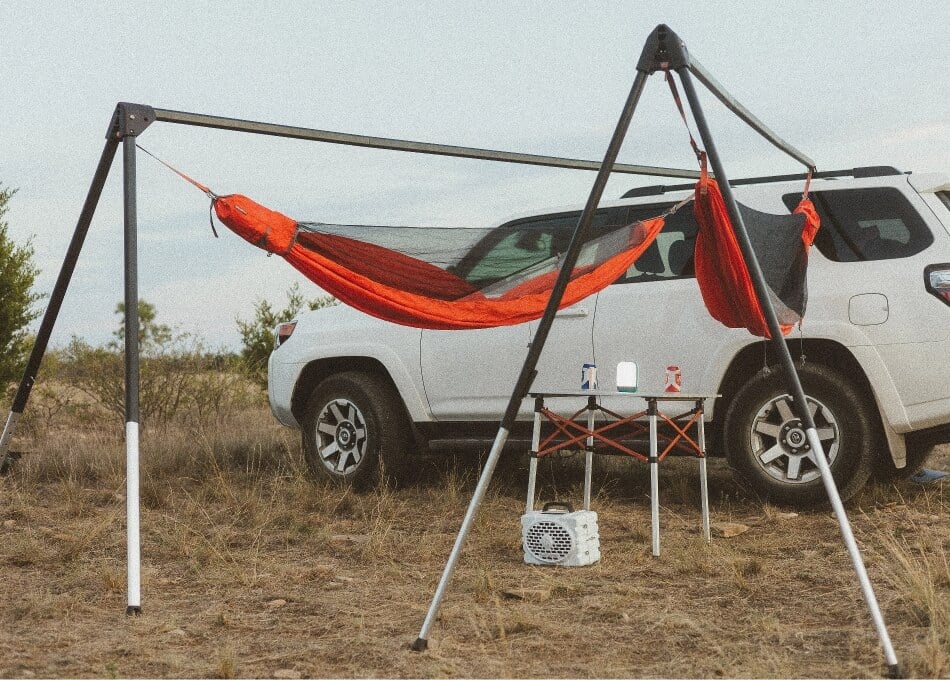 Camp with Friends
Attach multiple Outposts to your vehicle so every hammock camper has a comfy place to hang.
Ultimate Hammock Basecamp
Elevate your camping experience off the ground in any setting, no trees required. On a single vehicle, mount multiple Outpost hammock stands to accommodate a group of campers for a more restful night at camp.
Compact for Car Camping
Lighter than a roof top tent and more space efficient, the Outpost hammock stand offers maximum comfort at camp without sacrificing gas mileage and valuable roof top cargo space.
Flexible Mounting
Mount the Outpost wherever convenient on your vehicle with the included stock mount kit— compatible with most cross bars, basket racks, and platform-style racks. Read more about mounting compatibility here.
Tool-Free Setup
The quick-release ball hitch mount, three-piece crossbar, and telescoping legs make it easy to deploy and collapse the Outpost portable hammock stand in less than a minute—no tools required.
All-terrain Capable
The telescoping legs and rotating ball hitch allow you to adjust your hammock placement to any terrain, and the stake-able feet provide security for your stand when your hammock is not in use.
Compatible with Any Hammock
Over 12 feet long, the Outpost hammock stand is ideal for taller campers to lay flat in a hammock. Outpost is also compatible with our full line of hammocks, including Mantis, Sunda, our Roo line, and most hammocks you already own.
Intuitive Tarp Ridgeline
Stay sheltered from wind and rain by hanging any tarp from the horizontal crossbar. The crossbar is designed to be a robust tarp ridgeline, complete with tarp line guides for added security, and is compatible with our Mantis and Kuhli tarps.
Adventure-Grade Durability
Lightweight yet robust with an all-weather powder coating and backed by our Adventure-Grade guarantee. Go anywhere with your Outpost vehicle-mounted hammock stand and leave the worries at home.
Grab and Go Travel Bag
The Outpost is a portable hammock stand that packs down to the size of a collapsible camp chair and easily fits in the trunk of a small SUV.
Included
Outpost
1 × Outpost hammock stand
2 × Hammock hanging straps
1 × Stock mounting kit
Hammock not included
Dimensions
Unpacked Dimensions
L 153-159.5 in x W 37.5-61.5 in x H 50-82.5 in
Ridge Dimensions
144.5 in
Hammock Point to Point Connection Dimensions
141.5 in
Packed Dimensions
L 52 in x W 6.5 in x H 6 in
Capacity
Weight Capacity
350 lb
Sleep Capacity
1 person
Lounge Capacity
1-2 people
Materials
Frame Material
Powder Coated Aluminum, Anodized Aluminum, UV-Resistant Reinforced Nylon
Mount & Hardware Material
Powder Coated Steel, Stainless Steel
Frequently Asked Questions
Will the Outpost mount on my vehicle?
The stock mounting hardware included with every Outpost is designed to fit the majority of roof rack systems, but it is not 100% universal. See our compatibility blog for more details.
Can I hang things from my Outpost?
We do not recommend hanging anything beyond small accessories such as string lights or a tarp from the horizontal crossbar. The "A" frame telescoping legs can support larger accessories and products.
Can I hang a tarp over the Outpost horizontal bar?
You can use the horizontal bar of the Outpost as a ridgeline to hang a tarp, such as the Kuhli weather shelter or the weather shelter included with the Mantis all-in-one hammock tent.
What is the tallest or shortest vehicle the Outpost can be mounted to?
The vehicle roof rack that you want to mount your Outpost to should be no taller than 80 inches and no shorter than 50 inches.
Can I leave the Outpost mounted on my vehicle when I drive?
You can leave the mount attached, but we do not suggest you drive with the bars attached.
Can I mount the Outpost to something that isn't a vehicle? Like a wall or tree?
No. The mounting equipment is only compatible with a vehicle with a roof rack.
How many Outpost hammock stands can I attach to my vehicle?
The amount of Outpost hammock stands that can be mounted to your vehicle is dependent on your attachment points and the weight rating of your vehicle's roof. Crossbars commonly have a weight rating of 165 lbs. If you are using light duty crossbars or stock crossbars that came on your vehicle, be sure to check the rating before installing your Outpost.
How have you configured the Outpost stand so I can achieve the optimum hang?
The Outpost comes with a short set of straps very similar to our Python straps. These straps have the same loops along their length for setting the Hammock in the desired position.

For adjusting the height, particularly with taller vehicles, you can telescope the legs, which will result in the structural ridgeline being at an angle. This is ok. Then offset the hammock, on the straps on the loops, further in one direction or to one side than the other. This will position the Hammock for the desired hang.

For mounting the ball joint, you will need a "hard point" to either clamp onto or bolt into. The included mounting kit can be setup in a variety of configurations. The most common setup is a set of Crossbars, but compatibility ranges from Crossbar stay racks, to basket style, to base/platform style systems. You can even mount to a wall or tree with a few after market nuts and bolts!
Care
- Do not hang more than 10 lbs. from horizontal bar.
- Stake out or remove hammock in high windy conditions.