Sustainably Made
Limited Edition
Product on backorder
Hot
New
Out of Stock
Sustainably Made
Limited Edition
Product on backorder
Hot
New
Out of Stock
Mantis
All-In-One Hammock Tent
---
The Mantis is an all-in-one hammock tent created to provide comfort, protection, and adaptability to your adventure—featuring a 100% recycled, bluesign® approved hammock body.
---
Complete your setup: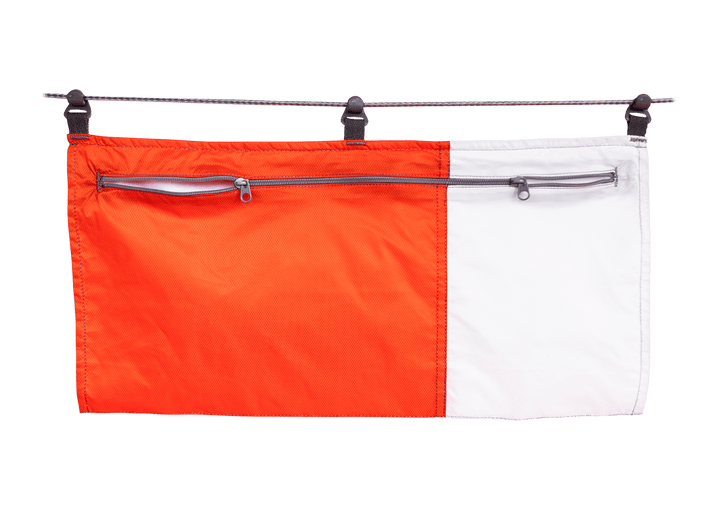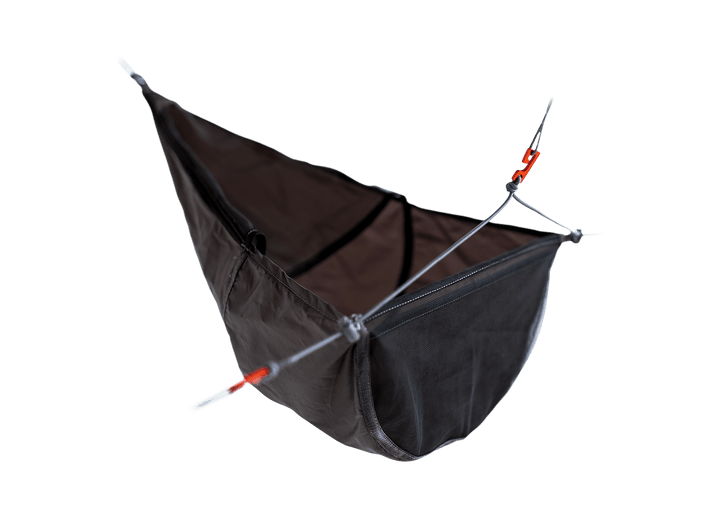 Bundle and save
Bundle and save big with the Camping Hammock Bundle. Cloud-nine comfort for every overnight starts with the Mantis all-in-one hammock tent and perfectly pillowy Pongo sleeping pad.
Lighten your load and put more miles on the trail with the Mantis all-in-one hammock tent: Built for adventures near and far. The Mantis all-in-one hammock tent is fully equipped with an integrated insect net and rainfly to keep you sheltered in any elevated camping scenario. Take what you need, and leave the rest at home. Mantis adapts for every adventure to help you save precious pack weight. Our buttery-soft, GravitasX™ fabric is 100% recycled, bluesign® approved, and made with pre-consumer waste that would otherwise be discarded as trash. Our Mantis safely holds up to 500 lbs. We reduced our use of virgin nylon while maintaining the same durability and performance needed in the backcountry.
Features
Tech Specs
FAQ, Instructions & Care
Setup Videos
Features
Trail Ready
With a 100% recycled, bluesign® approved breathable hammock body, integrated insect net, and featherlight rainfly, the Mantis all-in-one hammock tent lightens your pack and takes your camping experience off the ground. The Mantis all-in-one hammock system is smaller than your sleeping bag and lighter than a 1-person tent, offering a lightweight respite for hikers on trail.
Integrated Insect Net
Mantis's Dragonet™ is an integrated bugnet that zips into the hammock body from head to toe and offers complete protection fromany and all insects. Dragonet™ features built-in pockets to keep your phone, headlamp, and trail snacks close at hand, as well as a black mesh Stargazer™ panel that turns virtually transparent at night for an exceptional view of the night sky.
All-weather versatility
The included rainfly offers maximum protection from wind, rain, snow, and sun. Plus, Mantis's two compartment stuff sack allows you to tuck the rainfly away separately to keep the rest of your hammock tent dry after a wet night. Mantis's versatile three-part system allows you to pack what you need and leave the rest at home to save weight and put more miles on the trail.
60-second set-up
Lighter than your tent and easier to set up, the Mantis™ hammock tent takes camp setup to 60 seconds with a knotless suspension. The structural ridgeline takes the guesswork out of the perfect hang, allowing you to get that crucial 30-degree angle every time you pitch camp. Early morning starts just became easier, too, with a quick and easy tear down.
Customize Your Setup
Mantis is fully compatible with our full line of insulation, with six exterior and eight interior gear loops for easily attaching our Pongo sleeping pad, Puffin pillow, blankets, and insulated trail quilts. Additionally, the Mantis Gear Loft and Ridgeline Organizer add-on accessories allow for maximum storage at camp.
Responsible Made
The nylon fabric used to create our Mantis hammock body is 100% recycled and bluesign® approved. That means not only are we lowering our carbon footprint, but we're also ensuring the safety of our factory workers and customers by guaranteeing that no harmful dyes or chemicals are used to create this product.
Adventure Grade Guarantee
As always, our Mantis is backed by our lifetime guarantee. We took material bound for the landfill and ensured that it lived on in a high-quality product that will stand up to the test of time.
Tech Specs
Included
Mantis™ All-In-One Hammock Tent
1 × Mantis hammock body w/ integrated structural ridgeline
1 x Bug Net (removable)
1 x Rain Fly
8 x Hypalon-reinforced guy out points with built-in line locks
2 × Racer Slings™
2 × Kanga Claws™
2 x Python 10 Straps
2 x Hammock guy outs with built-in line locks
6 x Stakes
1 x Dual-compartment roll top stuff sack
Best Used for
Basecamp hammock camping, recreational use, backyard lounging
Dimensions
Unpacked Dimensions (Hammock Body)
L 120 x W 56 in
L 305 x W 142 cm
Unpacked Dimensions (Rainfly)
L 132 in x W 88 in (Tapers down to L 90 in x W 72.4 in)
L 335 cm x W 224 cm (Tapers down to L 219 cm x W 184 cm)
Packed Dimensions
L 6.1 x W 6.1 x H 10.5 in
L 15.5 x W 15.5 x H 26.7 cm
Ridgeline Length
115 in / 292 cm
|
Additional Specs
Gear Loops
6 outside, 8 inside
Weight
Total Packed Weight
3.06 lb / 1395 g
Trail Weight (without rainfly)
2.0 lb / 922 gg
Trail Weight (with rainfly)
2 lb 11.5 oz / 1233 g
Rainfly Weight
13.2 oz / 374 g
Component Weights
Capacity
Lounge Capacity
1-2 people
Sleep Capacity
1 person (recommended)
Max Weight Capacity
500 lb / 227 kg
Materials
Hammock Body Material
GravitasX™ 40D diamond ripstop nylon 100% Recycled, bluesign® approved with DWR waterproofing + crinkle treatment
Stuff Sack Material
Diamond Shell X™ 40D diamond ripstop nylon 100% Recycled, bluesign® approved with PU + DWR waterproofing
Bugnet Fabric
Dragonet™ 20D no-see-um polyester mesh with Stargazer™ panel for optimal contrast with night sky
Rain Fly Fabric
Patagium™ 15D nylon diamond ripstop nylon 1,500 PU/Silicone/DWR
FAQ, Instructions & Care
Frequently Asked Questions
Is the Mantis hammock tent treated with water repellents?
The Mantis hammock body is water resistant, made from our GravitasX™ 40D diamond ripstop nylon treated with a DWR waterproofing to repel moisture. The Mantis rainfly is waterproof, made from our Patagium™ 15D diamond ripstop nylon with a 1,500 Sil/PU treatment.
Why are there loops along the sides of the Mantis hammock tent?
Gear loops are for quick access to gear. Attach a trail quilt, water bottle, headlamp, stuff sack, kendama, or any gear you always want ready. For hammock campers, these gear loops are an excellent way to keep your hammock underquilt or top quilt in place. Our Mantis pairs well with our line of trail quilts—check out the Firebelly 30, Bobcat 45, and Arctos 20.
How are the hammock body fabrics of the Mantis and Mantis Ultralight different?
The Mantis hammock body is made from our GravitasX™ 40D diamond ripstop nylon which is 100% Recycled, and bluesign® approved with DWR waterproofing + crinkle treatment. The Mantis Recycled fabric has an extra softening treatment and a 500lb weight capacity. The Mantis UL hammock body is made from our Levitas™ 20D nylon diamond ripstop fabric, which is then coated with a DWR. The Mantis UL fabric is lighter weight and more breathable with a 300lb weight capacity. The different fabric weights and treatments make for a different hand feel, but both hammocks are quite comfortable!
Setup and Care Instruction
Follow Us
#Kammok in the Wild
Get out often and stay out longer with adventure grade, better made gear. Share your Kammok adventures to be featured.