Sustainably Made
Limited Edition
Product on backorder
Hot
New
Out of Stock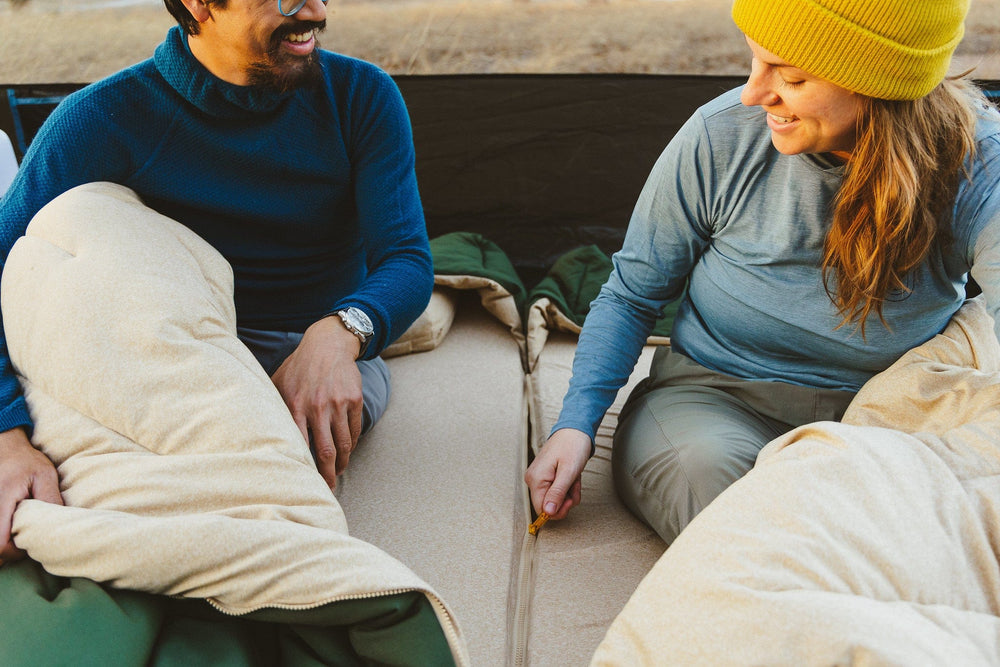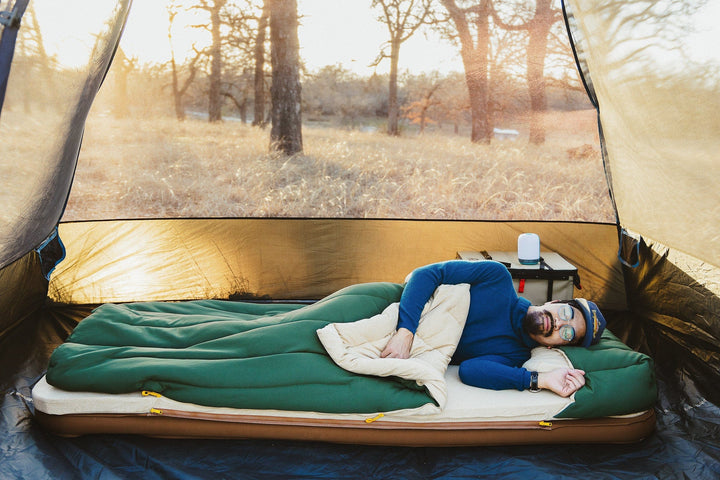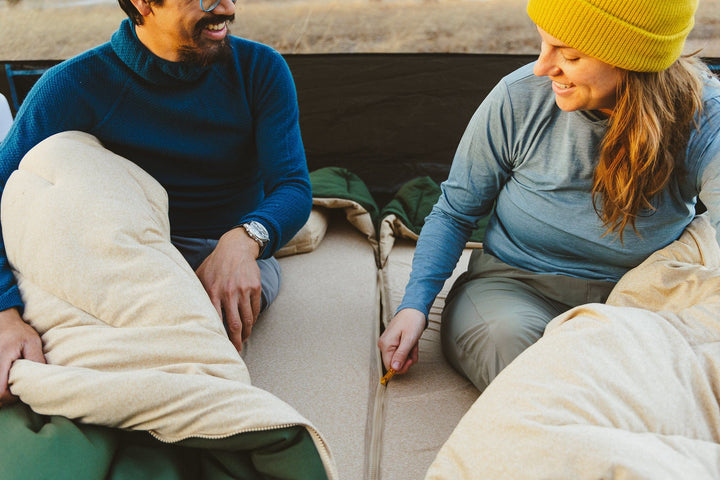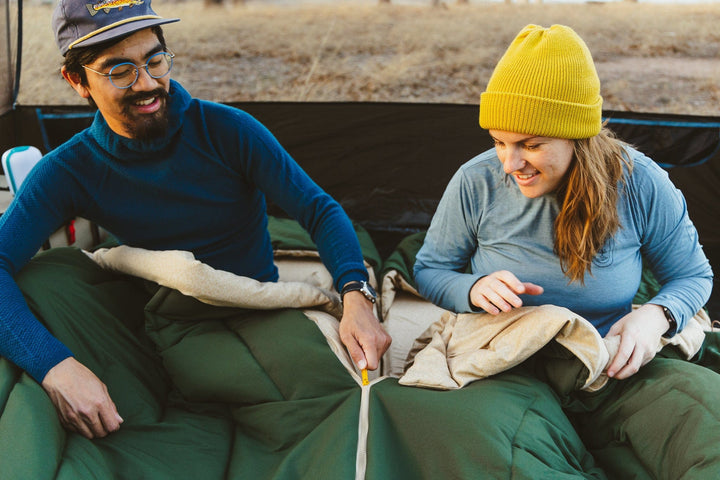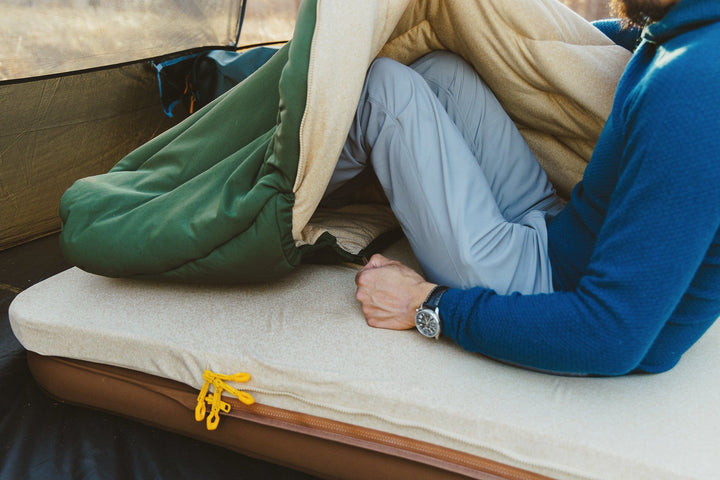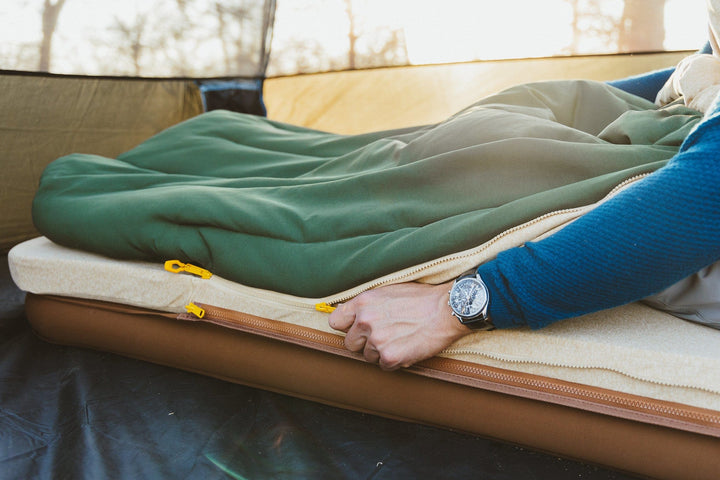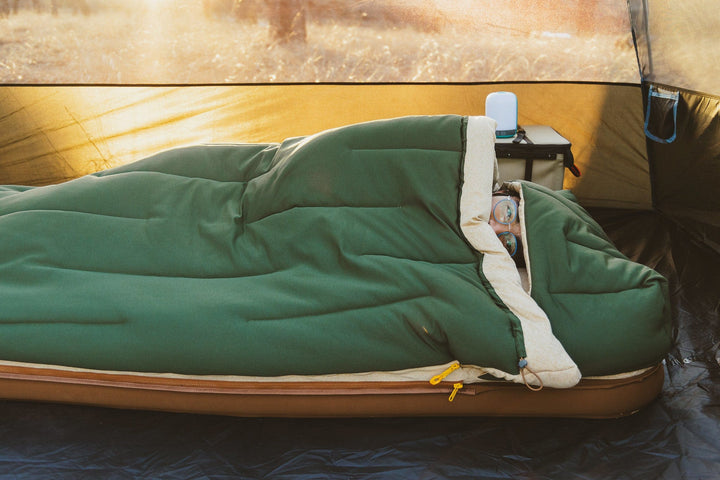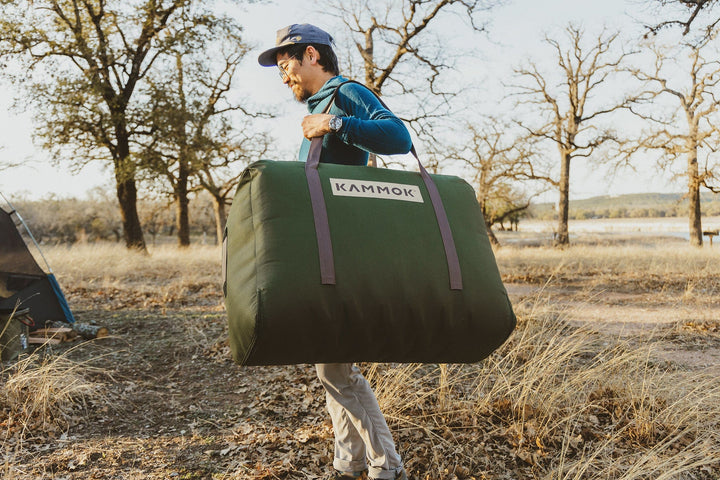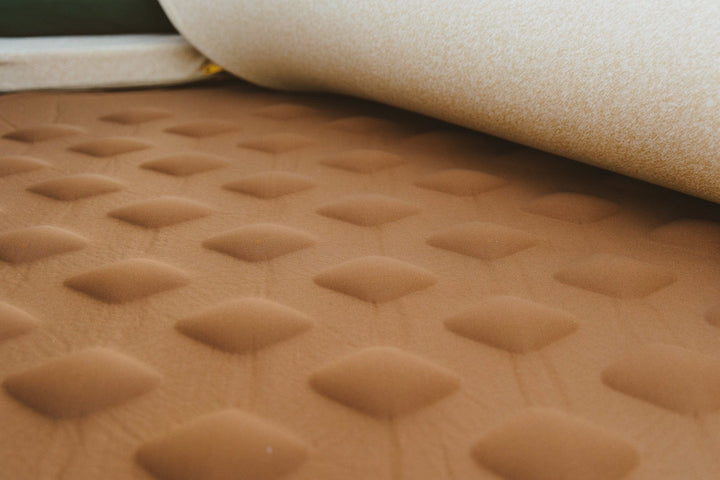 Sustainably Made
Limited Edition
Product on backorder
Hot
New
Out of Stock
Ursa Sleep System
30°F Sleep System
---
Ursa is the ultimate camping bed for the most restful night under the stars. This premium sleep system includes everything you need: a self-inflating base pad, memory foam topper, insulated camp comforter, and an adjustable oversized pillow with variable thickness. Now available in two sizes. Pillow sold separately.
---
Complete your setup: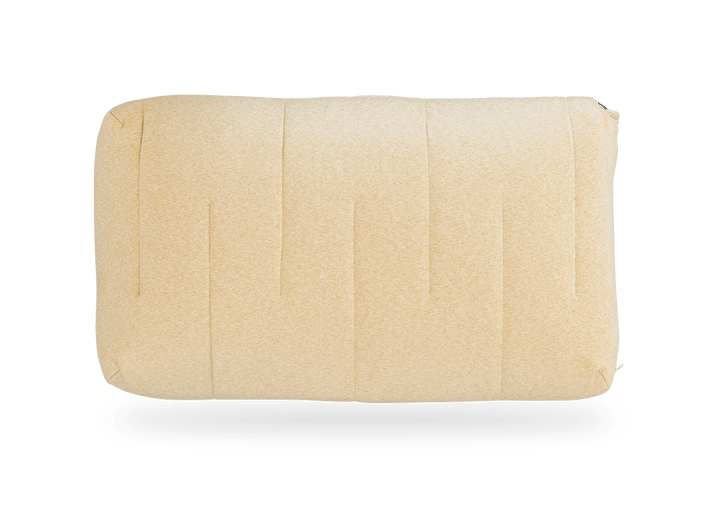 Ursa is designed to provide the best sleep outside, giving people the comfort and peace of mind they need to spend more restorative moments outdoors. Save your breath: The self-inflating base makes setting up at camp faster and more convenient so you can spend more time enjoying the outdoors. The asymmetric zipper system allows for easy integration with other components, giving you the flexibility to customize your camping setup to suit your needs. The spacious built-in footbox is designed for improved heat retention, keeping your feet warm and toasty even on the coldest nights, but is adaptable enough for warmer sleepers to kick their feet out from under the covers.
Features
Tech Specs
FAQ & Care
Features
Two Sizes
For taller campers and those looking to stretch out, the standard Ursa is oversized with plenty of comfort. Combine with a second Ursa to create a queen size bed for two! When camping in the back of your SUV, Ursa Minor has the same maxed out comfort with a smaller footprint.
Fully Integrated
Built-in asymmetric zippers for seamless integration between each component prevents any shifting during the night. Connect two Ursa beds side by side to create a queen size bed.
Self-Inflating Base Pad
The four inch self-inflating Base Pad offers a comfortable sleeping surface that will elevate you from the cold and rocky ground. The reversible one-way valve allows for easy inflation and deflation, while also allowing you to fine-tune the firmness to your liking for personalized support and comfort.
At Home Comfort
Made from super soft yet durable materials that mimic the feel of your bedding at home, ditching traditional scratchy and noisy camp fabrics for a more comfortable experience.
Memory Foam Topper
The two inch memory foam Topper provides unmatched comfort and support no matter your sleeping position.The attached insulated hood blocks cold drafts and keeps your head warm throughout the night. A removable and machine-washable fitted sheet makes it easy to clean your bedding after each adventure.
Camp Comforter
Made with synthetic insulation, the comforter is rated for temperatures as low as 30 degrees and offers a perfect balance of warmth and breathability.
Customized Fit
The spacious built-in footbox is designed for improved heat retention, but is adaptable enough for warmer sleepers to kick their feet out from under the covers. Built-in shock cords at the head allow for a customized fit around the shoulders for improved heat retention and maximum comfort.
Travel Case
Provides a durable, easy to carry solution that keeps Ursa clean and safe and makes deploying and packing away easy. The Travel Case also features an additional pocket for small essentials.
Oversized Pillow
The oversized Ursa Pillow features premium foam that conforms to your head shape, providing the perfect balance of support and comfort. An inflatable core allows you to adjust the firmness to your liking. Sold separately.
Adventure Grade Guarantee
Our Ursa Sleep System is backed by our Adventure Grade lifetime guarantee.
Tech Specs
What's Included
Ursa Sleep System™
1 x Base Pad
1 x Memory Foam Topper
1 x Camp Comforter
1 x Travel Case
* Pillow sold separately
Best Used for
Camping, Car Camping
Dimensions
Unfolded Dimensions
Sleeping Pad:
L 78 x W 30 x H 4 in
(L 198.1 x W 76.2 x H 10.2 cm)
Memory Foam Topper:
L 78 x W 30 x H 2 in
(L 198.1 x W 76.2 x H 5.1cm)
Trail Quilt:
L 82 x W 51.2 in
(L 208 x W 130 cm)
Packed Dimensions
L 24 x W 32 x H 14 in
(L 61 x W 81 x H 35.5 cm)
Weight
Total Packed
24 lb (10.9 kg)
Sleeping Pad
6 lb (2.7 kg)
Memory Foam Topper
16.25 lb (7.4 kg)
Trail Quilt
1.75 lb (794 g)
Max Weight Capacity
300 lb (136 kg)
Materials
Camp Comforter Liner
75D x 150D Brushed polyester w/C0 DWR
Camp Comforter Shell
70D x 320D Nylon, w/C0 DWR
Topper
Memory Foam
Travel Case
600D Ripstop Polyester w/400 mm PU coating
Temperature Rating
Base Quilt
30ºF (-1ºC)
FAQ & Care
Frequently Asked Questions
What are all the components included with the purchase of a Ursa?
A basic Ursa Sleep System™ includes 1 x Base Pad, 1 x Memory Foam Topper, 1 x Camp Comforter, 1 x Travel Case. The Pillow sold separately.
What is the R-Value of the Base Pad and what temperature is it rated for?
At this time we do not have a certified measurement for the R-Value. We plan to get the product tested when we have the final production unit. Through in-house field testing, we have concluded that the Ursa Sleep System with all components combined would keep you comfortable down to 30°F.
How do you clean the Ursa Sleep System?
The fitted sheet with attached hood, camp comforter, and pillowcase can be machine-washed with mild detergent and low heat tumble dry. The remaining components can be easily wiped down with a moist cloth.
Can the quilt or other components be used by themselves?
Yes. All components may be independently used or configured with any other single component for your desired use.