Plan Your Next Day Hike with Jenny Bruso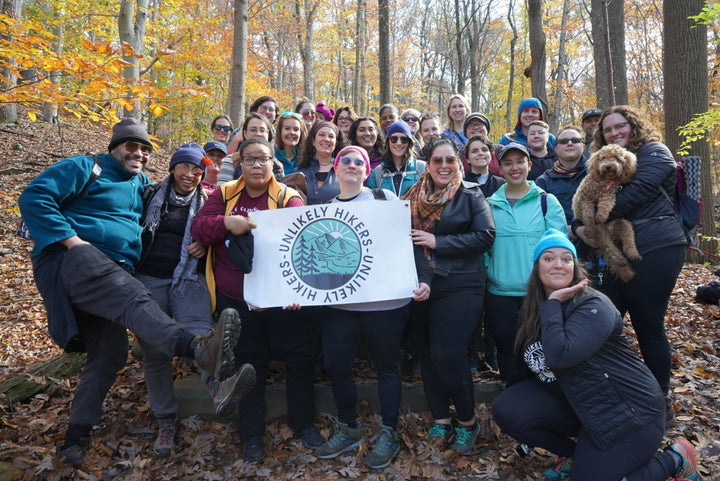 Whether you're new to day-hiking or just need a little validation for not embodying The Outdoor Fantasy, I'm here to help you out! I only started hiking about 9 years ago, and every time I looked up information about trails, gear, clothing, etc., I would become so overwhelmed. Inaccessible information can be a barrier to many people getting started. How-tos make it sound like you will encounter danger, or that you have to buy up half of an outdoor retailer to get started––you don't. It is very likely that you already have all you need.
That isn't to say you shouldn't do research and take preparation seriously––you should. But don't let preparation overwhelm you and keep you from getting that precious nature healing. Let's break things down.
Language
Hike - Intentional movement outside on trail. Speed and distance are up to you! Outdoor media makes hiking look like it has to be remote and rugged, and it can be if you want it to be, but you define your hike.
Elevation - The amount of vertical distance you gain (going up) or lose (going down) on trail from start to end. Example: a 3-mile trail with an elevation gain of 500 feet means that over the course of 3 miles, you will ascend a total of 500 feet. The 500 feet could be all in one go, or it could be a steady progression over the entire hike.
Round trip - The total mileage of your hike.
Out-and-back - You'll hike to a turnaround point (halfway point) and hike out on the same route. If a trail is listed as 4 miles, it means you'll hike 2 miles in and then 2 miles out.
Point-to-point - The distance in and out. If a trail is listed as 10 miles, it will be 10 miles from one end to the other. These kinds of trails are often done as a caravan, meaning you and your buddies bring 2 cars and park one at each end so that you hike the entire trail only once. Can also be done as an out and back, but it doubles the mileage.
Loop - The start and end point are the same, but you don't (or rarely) repeat the same section of trail, as if walking around something. Loops are often favored because there's always something new to see around the bend.
Day hike - A hike you complete in one day. Distance, terrain, elevation are up to you.
Multi-day hike or backpacking - Hiking with an entire camp set-up and supplies for multiple days on trail as opposed to heading home after.
Picking a trail
Start with trails close to home. They're often better maintained and more likely to have bathrooms nearby if you're not quite ready to go outside or have accessibility needs. Trails nearer to towns and cities will be more well-documented in books, online, or in hiking apps and they'll be less remote, meaning you likely won't be all alone in the wild. Also, depending on where you are, you'll probably have cell reception.
You'll find out quickly it's elevation, more so than distance, you want to be most aware of. Just because you see that something is under 3 miles doesn't mean it will be easy! Start with a low elevation gain, something under 500 feet, and shorter distances, 3 miles or less. You need to find out what your body likes rather than picking the most Instagrammed, gasp-worthy trail right off the bat.

Listening to your body
This isn't addressed in hiking guides, and neither is accurate details about terrain. The writer always assumes the person reading is fully able-bodied and part mountain goat.
Not knowing where your body is at in terms of its ability, strength, and endurance could become a safety issue on the wrong trail. That's why we start out low and slow, baby.
Terms like easy, moderate, and difficult are relative. What's difficult for me might be easy for someone else. Be aware of how you use these terms when speaking to others too. Be considerate of our innate body diversity because it's the cool thing to do.
Love your body, love your hike.
Take breaks.

As many as your body tells you to, and push yourself only in ways that feel productive. Be Nice to Yourself. Don't let the inner critic and diet culture kill your vibe. Instead of fretting about goals, speed, how you look, or what you "should" be able to tackle, think about how awesome it is that you're HIKING. The rest is noise.

You can turn around whenever you want.

Unless you're on the last half of a loop—then turning around would suck. You know what I mean.

Breathe.

Often when our breath quickens, becomes short, and our hearts beat harder, it signals panic to our brains. Breathe with intention, slow your pace, tell your brain you are safe.

EAT! DRINK!

Bring more water and snacks than you think you'll need. It is very common to discover that a trail is way more challenging than it looks in print, and often when our bodies are working hard, physical needs don't register as quickly as they normally do. Keep yourself hydrated and blood sugar steady to avoid cramping, lethargy, and big baby tantrums. Snack bars, dried fruit, nuts, and jerky are easy, nourishing snacks that make the body happy. Carry at least two liters of water for even the shortest trail, and have extra water and snacks in your car for your return. 

Trekking poles

can take a lot of pressure off of joints and feet, especially when backpacking. They greatly assist with ascents, descents, and balance, and they can be nice to lean on when you're tired as heck.
Clothing
Wear clothing that feels good to move in.

Breathable, moisture-wicking athletic wear that fits your body correctly. Maybe you already have spandex leggings, tank tops, and a windbreaker in your closet. Carry a jacket too, the lighter weight the better, but bring what you've got.

Avoid cotton—

it retains sweat which can get cold and uncomfortable and cause chafing. You can acquire actual hiking clothing if you desire to along the way. A good pair of hiking pants can be a game changer, but they aren't necessary. If you wear plus-sizes,

I've got your back

.

You don't have to buy a pair of hiking boots

right away, and many hikers will tell you you don't need to at all. Average athletic sneakers are usually fine. Personally, I swear by hiking boots. My big body likes the ankle support, and a thicker, more durable foot bed feels better on rough, rocky terrain. Like a lot of outdoor gear, a good pair of boots is expensive, but they are an investment in your overall experience and will likely help you avoid other pains.
Gear + packing list
Hiking book, or downloaded map and/or print out of trail map. Two forms of directions is best practice.

Trekking poles

Park passes, or small bills for bridge crossings and parking

Wallet

Day pack/backpack

Hanky/sweat rag

Pocket knife

Tiniest first aid kit (you can probably make this from things at home)

Tiniest survival kit (can often be bought in one small inexpensive kit, includes compass, matches/lighter, whistle, emergency thermal blanket, etc.)

Sunglasses

Spare pair of eye contacts or glasses

Phone (fully charged, all apps closed, room for photos)

96oz. water bladder (and

LifeStraw as a backup water filter

)

Snacks (jerky, nuts, dried fruit, fresh fruits, and vegetables)

Headlamp (for the many times it takes longer than you thought it would)

Chapstick

Eye drops

Bodyglide or some anti-chafe aid if you're prone

Ibuprofen

Tiniest insect repellent

Sunscreen

BATHROOM KIT: pee rag (stand-to-pee device like a

pStyle

, a hanky or

Kula Cloth

to be used instead of toilet paper when peeing), toilet paper (for #2 only, pack it out in ziplock!), small trowel
Safety
Being prepared is being empowered, and on some trails, it is imperative to know what to do in a wildlife encounter, though they are rare. Also rare: being attacked by creeps. It is also true that something like this is less likely to happen on trail than it would in your daily life. Comforting, right? Nah.
Whether you're hiking alone or with others, let a point of contact know where you are going, when you are going to start, and a rough idea of when you'll be done. Notify them when you are safely on your way home.
Consider bringing a hiking buddy or joining a local hiking group. Meetup is a great way to find the right group for you. Also search social media. There are now many affinity hiking groups for BIPOC, LGBTQIA+, plus-size, and disabled hikers.
Carry: pocket knife, pepper spray (if that feels good to you), bear spray if you're hiking in an area known for them, and trekking poles to make noise or whack creeps (again, highly unlikely).
Your homework before you go:
Carry a dry bag for trash—leave the trail better than you found it.

Trail etiquette

is good to know, especially when it comes to multi-use trails (hikers, bikers, horses), but be discerning. It is generally written in a way that implies there is only one "right" way to enjoy the outdoors and from the perspective of someone who has an innate sense of access to nature.

Many people do not feel that innate sense of access

. Trail etiquette is often used to shame folks who don't already know it. Be compassionate, share information, assume best intentions, and don't self-deputize yourself as the freaking king of the forest. Respect the trail, respect other hikers. Collection 2019 Sale 70% Off Title for image