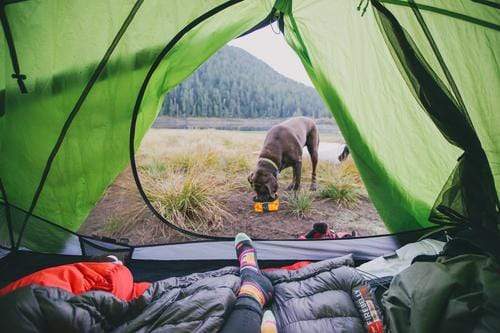 Living in Central Oregon provides us with so many great activities, literally right in our backyard. Oregon is filled with mountains, waterfalls, thousands of trails, rivers, vast deserts, meadows, thick forests and valleys. Oregon is a also coastal state, so getting from Central Oregon to the coast is even an option in a half day's drive. The diversity makes it easy to change up your activity and explore new places! If you ever find your way in or around Central Oregon, at any season, I can promise you, these highlights won't let you down.
A climbers mecca with many other activities to take on while you're visiting this one-of-a-kind place: camping, hiking, slacklining, biking and running just to name a few. With over 650 acres and 12 unique trails in the park, you could easily spend a few days playing around this beautiful place. My favorite thing to do there is hike the Misery Ridge Trail from the front side, over the the back side, and then wind my way back all around the base by the river. You may be thinking... hmm... a trail called Misery Ridge? No thank you. Well, I wont lie, it's not a very easy trail in regards to the steepness of it, but it's pretty short where it's steep, and not too miserable! In the summer months, the temperatures rise into the 100s and this trail has little to no shade. So yes, then I'd call it a misery trail!
Mount Bachelor | Bend, OR
Mt. Bachelor has 3,700 acres of lift accessible terrain and has the highest skiable elevation in Oregon and Washington. Guests can ski or ride 360 degrees off the summit (when the weather cooperates) and hike the cinder cone for a out-of-bounds type run where you can often time find hidden stashes of powder! On average, Mt. Bachelor attracts 400 inches of the driest snow in the Northwest, but those inches don't accumulate without some very serious weather days. The strong weather patterns at Mt. Bachelor help create those natural halfpipes and unique wind lips the area is known for. When the Summit lift is open, hike yourself to the true summit for those steeper lines in the bowl or loop around to the backside where the weather really creates some fun lips and natural features in the back bowls. On a powder day, ride Northwest Express or right under Red Chair. When you approach the top of Northwest, turn right and you can traverse numerous powdered filled bowls and great tree skiing.
Cascade Lakes Highway | BEND, OR
Sixty six miles of America's Top Ten most important byways is located in Central Oregon. Off this highway there are 14 easily accessible alpine lakes (with dozens of others that you need to earn a little more). Some of the bigger mountains accessible right off the highway include Mt. Bachelor, Broken Topand South Sister. Every lake that is accessible right off the highway is completely different from the rest and have different types of recreation allowable. My top three favorite lakes would have to be Sparks Lake, Devils Lake and Hosmer Lake. Sparks is an ideal place to canoe, kayak, paddleboard and camp. It's one of the larger lakes along the route with backdrops of Mt. Bachelor in one direction and South Sister in the opposing direction. It is probably one of the more popular lakes to visit, so hit it up on a weekday morning or evening for a mellow and relaxing environment with sunrise or sunset colors painting the mountains around you. Devils Lake is probably the most visually appealing with is stunning turquoise green water. It is also one of the colder lakes, so dipping in is for the brave. It is the starting and ending point for those who want to hike South Sister as well, a treat to come back to and soak those tired (and really dirty!) feet. Hosmer is a unique lake in that there are water trails formed by cattails that makes it for a fun exploration lake by canoe, kayak and paddleboard. After bending some corners, you will get views of Mt. Bachelor and South Sister as well. Hosmer tends to remain pretty mellow from crowds throughout the summer months because of limited parking. Of the mountains to hike, Broken Top trail, South Sister and Mt. Bachelor are the more frequently achieved trails. Broken Top is probably the hardest to access (road wise) if you want to park at the closer trailhead. You will need a high clearance 4-wheel drive car. I've seen some lower cars in the parking lot there, but I've also seen car parts scattered along the dirt road to it, so, your choice! You can access Broken Top trails from Green Lakes Trailhead area as well, it's just a little bit longer of a day. Any choice you make to do and see along the Cascade Lakes Highway will not disappoint you. Even just touring and sightseeing by driving the whole thing is a spectacular sight if you're not so much into the physical stuff!
BEND ALE TRAIL
The best way to end any adventure in Central Oregon is with a nice, big ol' pint of craft beer. I mean, good luck having just one pint! Central Oregon is a beer brewin' mecca, and with one brewery for ever 4,500 people living in Central Oregon (that means yeah… 29 breweries!), you'll have plenty to choose from. The Bend Ale Trail is a popular choice for those who just simply can't make up their mind. Or if you really just want to do your own thing, choose from this long list. 
Cheers friends! Collection 2019 Sale 70% Off Title for image