8 Takeaways from ATX Campfire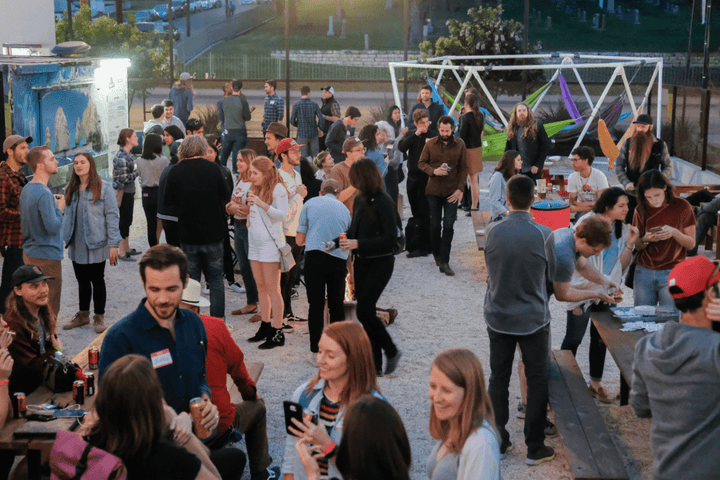 On Monday night we opened our doors to our Texas friends, inviting them for a night of community design, beer, pizza, live music. The night was saturated with insight from the brightest movers and makers in outdoors + design. While this list could extend into multiple blog posts, we wanted to share a few highlights from one of our favorite nights this year. Here we go!
1. Messy desks are perfectly okay.

Taylor Welden of Carryology dropped the news that messy desks are proven to draw inspiration and support creative problem solving skills. In a day of minimalist, Instagram-worthy work spaces, we need to fill our spaces with objects with significance. That lonely succulent on your desk? Try pairing it with tactile inspiration, a few family photos, or a scribbled down word of the week.
2.

 

Seek thin places when you travel.
Wildsam Field Guide's Taylor Bruce spoke on Thin Places - a metaphor of Celtic origins, which gives meaning to the places where our proximity with the Divine is only a thin veil. Whether it's crossing a pass in the Sierra, experiencing a subway performance in Brooklyn, or emerging in a community abroad, there are moments when Heaven and Earth seem to collapse together. In Taylor's words, "the stories of these places help make it thinner."
3. Products tell a story.
Our keynote speaker Bob Smith is a wizard in branding, product development, and creating a history in the present. He is the founder and creative director of OreCal Sportswear, where he created a brand identity with a history beyond the founding year. Sure, "tell the story" has become a buzzphrase in the marketing world, but Bob has expanded this thought. "The purchase should be a souvenir of your well-told story." Thanks for challenging us in marketing + product design, Bizzbob.
4.

 

Repeating themes in your life may be passion clues.
Our friend Tony Smith, founder of Jarvis Boards, tabled his love for building, creating, and being curious after graduating from college. Landing a job in finance, Tony chose the "adult job" route. After a decade, the tension between his maker mind and traditional route snapped, and Tony spontaneously built his own wood canoe. This successful project paved the way to beautifully crafted stand-up paddle boards. Soon after, Jarvis Boards was born. Engage your curiosities and inclinations - they may become your passions.
5. Texas landscapes inspire.
The Kammok HQ Mural Competition finalists crushed it. With pieces showcasing Texas spaces from Big Bend National Park to our local oasis of Sculpture Falls, we couldn't have been more proud to present our Top 10 finalists to ATX Campfire attendees. There was a buzz surrounding the artwork among event attendees, and while the voting was close, we're excited to announce the Top 3!
6. There will always be two types of marshmallow roasters.
Oh yes, we were watching. We admire the patience of the slow-roasters, and appreciate the tenacity of the arsonists. RYOR (roast your own roast).
7. We love Austin (no new news).
A warm "thank you" to everyone who came out to ATX Campfire! From the coffee-buzzed community design workshop, to the nightcap of beer, pizza, and s'mores as a solace from Austin's electric event season, it was an evening to remember. Collection 2019 Sale 70% Off Title for image