10 best books for the trail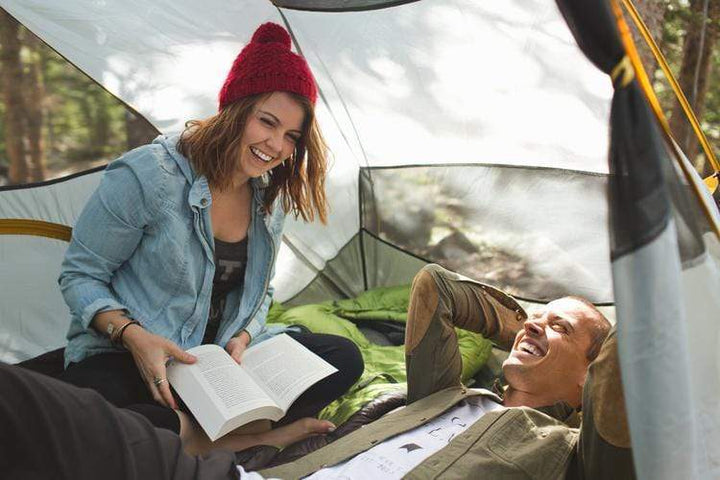 At Kammok, there's not much we love more than kicking back in the great outdoors (city or backcountry style!) with a book that challenges the mind and inspires the heart. After much debate, our team dog-eared these ten titles as our very favorite books for the trail. In no particular order...
Why we love it: It's the tried-and-true tome for living a life of adventure and mystery. Part fable, part spiritual memoir, Coelho's short epic will be read by firelight for a long, long time. Our sales director Jason brings it with him on every trip: "It's an inspiring book on how to live. How to walk through the open doors in this world. How to love. Most of all, it continually teaches me that the adventure and treasure is in the journey, not the destination." Travis, our customer experience guru, also recommends this one, so technically...its the team favorite. 
Why we love it: This bookshelf staple of Southwest nature writing is deep look into the life of deep-thinking author and environmentalist Edward Abbey and his time as a park ranger at Arches National Monument in the late 1950s. Here's one of our favorite quotes: "Wilderness is not a luxury but a necessity of the human spirit, and as vital to our lives as water and good bread." Teammate Haley read it during her 25 nights in Glen Canyon, Utah and says that Abbey's words gave her new sight for mystery and magic of the desert. 
Why we love it: In this modern runner's manifesto, our sales director Caroline (who also qualified for the Boston Marathon!) finds real inspiration in the stories of the reclusive tribe of Tarahumara Indians, who happen to be world class endurance runners: "Hearing some of the stories of these runners with endless amounts of energy inspires me to see where my limits stand. Experiencing that alongside quiet and beauty reminds me of all we have right in front of us.                                          Sometimes, it takes the trail for me to remember."
Why we love it: Bronson's collection of anecdotes seeks out an answer to these ever-present questions: How do we find balance, find our voice, and find what's truly meaningful? His writing challenges everyone who reads the book, no matter your age or background, and is a catalyst for the kind of reflective moments the outdoors so freely give us.  Son, our ecomm ninja, claims its a must-read.
5 | I AM COYOTE
 

by Various Authors
Why we love it: This collection pulls together writings from the most admired adventurers of our time—think Walt Whitman, John Muir, and Mark Twain. I Am Coyote is an anthology that gets us packing our bags and lacing up our boots in no time. Our founder Greg loves how it connects him to sense of get-up-and-go: "We see nature's admirers thirsting for adventure and truth on land, river, sea, and ice."
Why we love it: Across 15 non-fiction essays, Berry traces the important connections between writing and the places that shape it—from Wallace Stegner's allegiance to his American West, to the New England of Donald Hall's childhood. Plus, Berry's way of storytelling feels like your talking a long walk with the writer himself. Some of us are pretty obsessed with his prose. 
Why we love it: It's a coming of age story set among the trout-fishing beauty of Montana, and a it's portrait of family—in this case, the relationship between two brothers and their minister father, who all share a common love for fly fishing. The writing is timeless; the story heartbreaking and poignant. There's not a better riverside read.  
Why we love it: Muir is a giant. And this volume, based on journals and sketches from his stay in the Sierras, is a field guide of natural wonders. No one finds all the tiny miracles in nature quite as readily as this bearded California wanderer.  
Why we love it: Greatest story ever told? It's pretty close. Get wrapped up in the epic passages of Frodo, Gandalf and Tolkien's magical band of characters across Middle Earth. This trio of books is perfect for longer trips, and for out-loud reading with a group – one of our favorite pastimes.
Why we love it: Leave it to Steinbeck to retrofit a truck and hit the highways and backroads of America with his poodle. We love his ability to capture the inherent sense of place in each coastal village, mountain town, and Midwestern hamlet, as he searches for the heartbeat of our country. This is the bright-eyed alternative to Kerouac.
BONUS |
 

AUSTIN

 

BY WILDSAM FIELD GUIDES
Why we love it: This book is a collection of stories that document the shared narrative of our hometown city, Austin, Texas. Our team loves all things that celebrate #ATX: the gateway to the American West. "Far more than weird, Austin's sense of possibility feels a part of the limestone strata, cut long before taglines and tee shirts. You feel this independent vibe everywhere, from taco trailers to neon shops to live music every night of the year. As hotelier Liz Lambert says, "If you grow up in Texas, and you're a little different, all roads lead to Austin." Collection 2019 Sale 70% Off Title for image