Gear tips for adventurous moms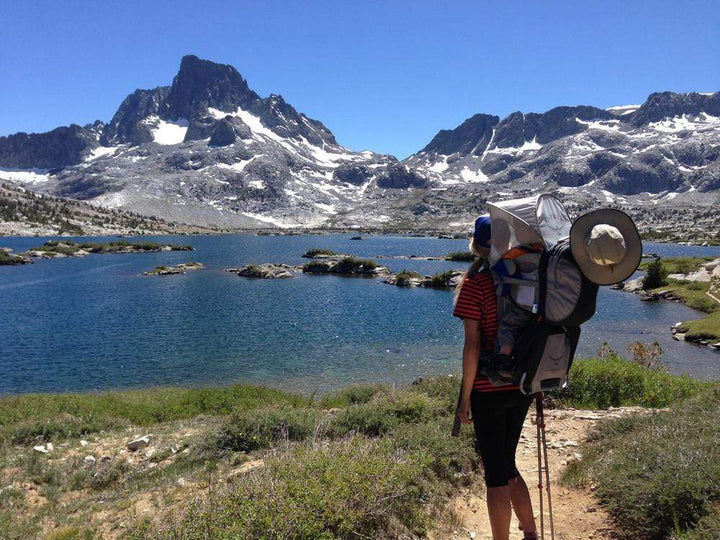 Read time 4:00
After a lifetime of outdoor adventure with my parents, and now, a family of my own, I have gone through an array of experiences, weather and gear.  There have been times I have had to learn things the hard way by packing too much useless gear, and there have been times I have desperately wished I had brought more.  All of these experiences have been part of my journey of learning through trial and error and I would like to help those of you who may be looking for some good tips and advice.  From some of the very basics to some things you may never use, here is a brief list of my current favorite summer gear for outdoor ladies and moms:



*The importance of comfort- All these choices of mine listed below are just suggestions, but I would like to quickly stress the importance of comfort.  From the little things you don't even think about like bra straps, to the importance of a backpack that properly fits, you will quickly see that if you make the minor adjustments to acquire comfortable gear, your entire outdoor experience will be changed for the better.  Like me, you may not even notice that something is uncomfortable until you try something good, like an awesome pair of hiking socks, but once you do it will change your perspective completely.  I promise.  
Base Layers
There is a saying, "dress like an onion and peel back the layers", so from the beginning, lets start with the basics.  I never go on long adventures wearing typical bras.  With the weight of a backpack, typical bra straps will dig into your shoulders and leave you feeling very uncomfortable.  I always wear sports bras and very comfortable underwear.   Next, and the most important base layer of all- socks!  

Whether you are going for a quick afternoon hike or a multiple day backpacking trip, keep in mind that your feet are what carry you along your journey.  They are the honest dictators that will determine whether you have a good experience or not.  Whether or not you believe me, invest in a good pair of merino wool hiking socks that are contoured to your foot.  The merino wool will keep your feet dry longer, dry faster, and the contouring is going to prevent sock slippage that eventually causes blisters.  As soon as you put them on you will be smiling, and I assure you, your journey will last much much longer. 

Depending on where you live or travel, what you put on top of this will vary.  I am going to list below what I would typically wear or bring with me in the dry Eastern Sierra.

The Patagonia capilene silk weight graphic t-shirt is my current favorite.  Being so soft and so comfortable this shirt will make you feel like you are wearing nothing at all.  You don't want to wear any of your layers too tight.  Breathability is key to comfort so give yourself enough room to be comfortable and versatile in building and removing layers.  Depending on the day's weather, if I will be needing warmth I will either bring with me a slightly thicker merino wool base layer top, or The North Face Allabout jacket: a lightweight, ultra breathable, wind and rain jacket. 
Shoes
Trail Shoes:  This, of course, varies from person to person, so I highly suggest that you try on many different pairs of shoes before you decide on a particular pair.  Like I mentioned before, the happiness of your feet is crucial.  I have worn just about every pair of hiking boots and trail running shoes out there from The North Face to La Sportiva, however, Salomon is by far my favorite.  I recommend them to absolutely everyone.  I wear the Salomon XA Pro 3D's (Gore-Tex).  They fit my feet like gloves, are just stiff enough for support on the trail, keep my feet completely dry with the Gore-Tex technology, and have absolutely no break in period.  The very moment you take them out of the box they are the best shoes ever.  

Climbing Shoes:  La Sportiva's TC Pro- this is a more edgy and aggressive shoe than the entry level La Sportiva Mythos, but if you are a fiend for crack climbing like I am, all I've got to say about these is no more bloody ankles!

Every day Shoes: Salomon XR Mission W.  Lets put it simply- you cannot go wrong with shoes from Salomon.
Gear Packs
I rotate between two packs right now:  The Osprey Poco Premium child carrier and the Patagonia Ascensionist 35L.  

If I am with my son (which is most of the time) I will be using the child carrier.  My husband and I did a ton of research on child carriers, tried many, got two, and fell in love with one.  The Osprey Poco Premium was it for us!  It is by far the lightest in weight and has the most storage and additional features of any carrier out there.  Because of the duration of most of our hikes, we typically use up all of the storage compartments, so that was a big selling point for us.  Unlike most other carriers, there are compression straps on the sides to attach additional gear for overnight backpacking trips.  There is a removable Osprey changing pad, a badass sunshade that hides nicely inside the pack, and even a rain fly you can purchase to cover up your babe.  We haven't needed the rain fly where we live, but if we lived in the North West, I'd be jumping on that feature in a heartbeat.  
When I do not have my son with me I carry the super awesome and very lightweight Patagonia Ascensionist 35L.  I wanted versatile medium sized pack that could be used for both hikes and gear hauling, so I went with the 35L; but there is a smaller 25L pack that I would definitely recommend for shorter day hikes.  
The Gear
My very favorite piece of gear right now that is allowing me to safely climb pregnant is my Edelrid Solid Night Oasis full-body climbing harness.  The master point on the Solid rests pretty low on the abdomen, so this harness might not work for everyone as it was not specifically designed for a pregnant woman; but there is however, a harness that recently came out called The Mountain Mama from Mad Rock that is the very first harness designed for the pregnant rock climber.  How cool is that!  
Many of you know I love taking photographs.  Whether it is an iPhone, the go-anywhere GoPro, or a full-size DSLR, I never leave home without some kind of camera in my pack.  


Along with a camera, I usually have one or two standard Nalgene bottles full of water along with the Katadyn Hiker Pro water filter to refill safely from any mountain stream or lake.  I have used the same water filter for nearly 10 years and don't have to heart to switch to anything else.  It is that good.  
My next essential piece of gear is the Kammok Roo hammock.  From the base of the high alpine crag, to your favorite bouldering spot along the creek, to your front porch, this lightweight hammock is nothing shy of absolutely amazing.  Not only is this hammock awesome because I'm wicked pregnant and need a place to rest from time to time, but everyone who gets in it enjoys it- especially my toddler.  It is so lightweight that it doesn't make any bit of difference putting it in your pack with everything else, and once you get to your destination and effortlessly set it up, you too will quickly realize how essential this piece truly becomes!  I cannot express that enough.


The last essential good that I will never forget is Papaw.  Did I say that right?  Yep, Papaw- the Australian ointment from heaven.   Once you use this stuff you will never forget that funny sounding word.  Made solely from fermented papaya, this ointment is good for almost everything:  chapped lips, sunburns, oven burns, bug bites, diaper rash, cracked skin, you name it.  You will never want to use anything else.  Find it on Amazon and never look back!
Of course, these lists are different for everyone and I hope that some of the things that work for me will work for you too.  The very best way to find out what helps make your outdoor experiences thrive is to get out there and try these things for yourselves, so I really hope to encourage you to get out there and have the time of your life in nature's playground! 


-Shannon Bennett
Follow Shannon Bennett at www.thrillfolk.com
Instagram @shannbenntt Collection 2019 Sale 70% Off Title for image