8 Special Permits to Apply for Now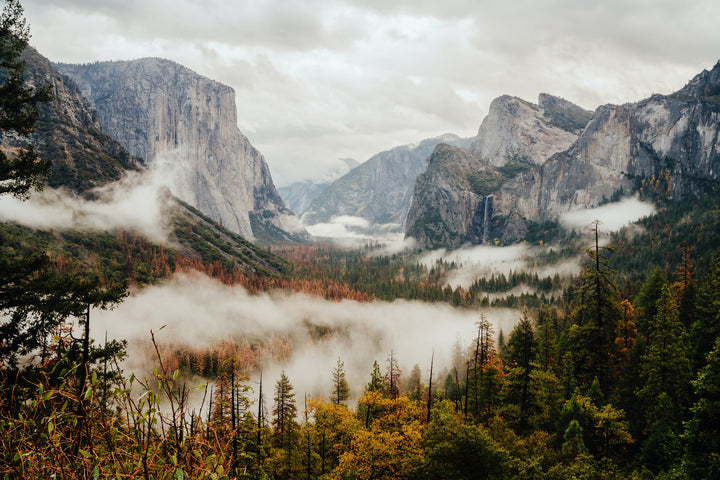 Depending on where you are in the world, and how cold it is outside, the thought of camping right now might not have even crossed your mind. While you're bundled up at home this winter, take the opportunity to plan your adventures early! Texas state parks allow you to book campsites five months in advance while most national parks allow you to do so six months in advance. Backcountry and lottery permits are a tad trickier, and there's no time like the present to apply before they're all snatched up. 
We've put together eight bucket-list-worthy trips that take a bit more logistical planning than a simple reservation. Best of luck to everyone who applies for these epic permits!
1. Thru-Hike The Narrows, Zion National Park
Hiking The Narrows is a bucket list item for many, which contributes to the ultra-competitive booking system for the 16-mile through-hike. A backcountry permit is needed whether you want to hike it in a single day or camp halfway, but if you plan to camp, a backcountry campsite booking is required as well. The trick here? Booking opens at 10 a.m. Mountain Time on the 5th of every month, and the NPS reports "most spaces will become fully booked for the next month within minutes of reservations opening." Don't be discouraged. You can plan for an out-and-back trip in the narrows with no special permit required. Plan for this one in late spring and summer when temps rise and water levels drop.
2. Rim to Rim, Grand Canyon National Park
A backcountry camping permit for Grand Canyon is even tougher to nab than The Narrows and more logistically challenging as well. You'll need to plan months in advance and mail or fax your request to the NPS in order to get approved. A Rim to Rim hike in Grand Canyon National Park is extremely challenging when you consider the elevation change and hot, dry conditions. According to HikingGuy.com, the most viable windows for a trip like this is the end of May or beginning of October when hotter temps are least likely. Check out the full guide at HikingGuy and start making those plans now!
3. See the fall colors in Lost Maples State Natural Area
This state natural area outside of San Antonio is best known for its fall foliage. While most Texas trees like pecans and oaks turn to brown and shed their leaves during winter, Lost Maples offers the Lone Star State some true fall colors. Bigtooth maples not common in most of the state still thrive in this unique microclimate and offer a spectacular show come November. But you'll have to plan in advance if you want to see the brilliant orange leaves in person. Based on the Fall Foliage Report from 2021 and a quick phone call to the park headquarters, it sounds like planning your trip around Veterans Day is the ideal time. Since Texas state parks don't allow you to reserve campsites more than five months out, set a reminder in your phone for June as spots fill up quickly. Day passes are sold a month in advance and also sell out well in advance.
4. Visit The Wave at Paria Canyon-Vermilion Cliffs Wilderness
This gem in Arizona is a highly sought after photo destination for social media influencers, but it's so much more than a selfie spot. The Wave is one of the most visually interesting geological structures in North America. Due to its popularity and the fragile nature of the unique ecosystem, permits are limited to a highly competitive lottery system. From the Bureau of Land Management website: "Forty-eight people or 12 groups (whichever comes first) each day are awarded permits through an online lottery four months in advance." A same-day walk-in lottery is also available, but they limit numbers to 16 people or four groups. Best of luck on this one—the lucky few are in for a heck of an adventure.
5. Summit Mt. Whitney, Inyo National Forest
Looking to escape in the beautiful Sierra Nevadas? Might as well summit the tallest peak in California while you're at it. For most hikers, this is a 12-hour day minimum: 22 miles out and back with over 6,200 feet of elevation gain. If this doesn't deter you, then it's time to call your friends and put some dates on the calendar! Best hiking conditions run from July to late September when the trail is usually free of snow. Not so fast though—the success rate for 2021 applications was a measly 28%, meaning you'll likely have to apply multiple times to get a shot at this one. But if you're a peak bagger, or if you're just looking for an epic adventure, this one's definitely worth applying for. The lottery for Mount Whitney runs from February 1 to March 15, so mark your calendar!
6. Float Hell's Canyon, the Salmon River, or the Selway River
You've only got a few days left to put in for these sought-after river floats as well as a few others. The last day to enter the lottery for the 2022 season is February 1st, so you'll have to make a quick decision. Still, these rivers offer some of the best of the west when it comes to scenic and technical paddle trips. And don't worry: If this isn't your year, you can always plan for 2023. For a full list of upcoming lotteries, click here.
7. Hike the Half Dome Cable Route, Yosemite National Park
16 miles with 4,800 feet of gain is nothing to take lightly, but reaching the summit of the Half Dome in Yosemite is definitely a once in a lifetime kind of experience. Hikers have been using this cable route since 1919, and it remains one of the most popular destinations for outdoor enthusiasts today. If this sounds like your kind of adventure, know that the preseason lottery runs during the month of March with more daily lotteries to come in May. The cable route opens in late May depending on conditions and is open through October 11. Make your plans and find more info here.
8. Paddle the Devils River, West Texas
Of all the adventures on this list, aside from the Lost Maples trip perhaps, this one might be the most achievable. Why, you ask? The Devils River lies in barren west Texas, completely remote and relatively unknown in comparison to the national park giants listed above. Lucky for you, it's one of the best kept secrets in Texas. The Devils River is a 94-mile, spring-fed river considered by many experts to be the most pristine river remaining in Texas. To help keep it that way, Texas Parks and Wildlife limits the number of visitors to the river, and especially the number of paddlers given river access permits. TPWD recommends planning your trips for spring and fall to avoid extreme temps. A quick Google image search of the river will tell you everything you need to know about why you should put this on your list, and why if you go you should be extra diligent with your Leave No Trace principles (as always). Want to learn where the Devils River got its name? Check this out from the Devils River Conservancy, and while you're on their website, read about why this river is so important to protect.
For those of you ready for a winter adventure, check out our Guide to Hammock Camping in Cold Weather. Collection 2019 Sale 70% Off Title for image