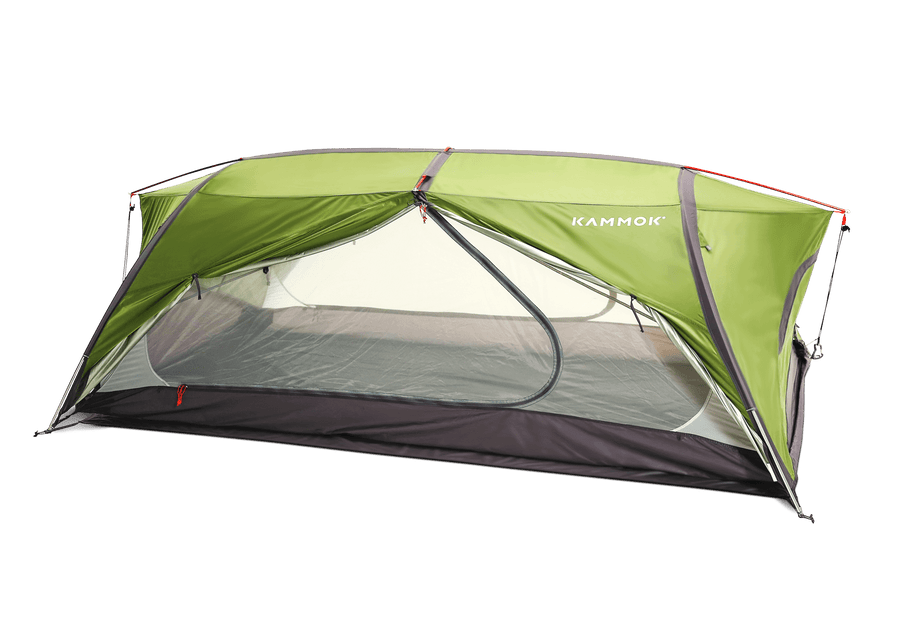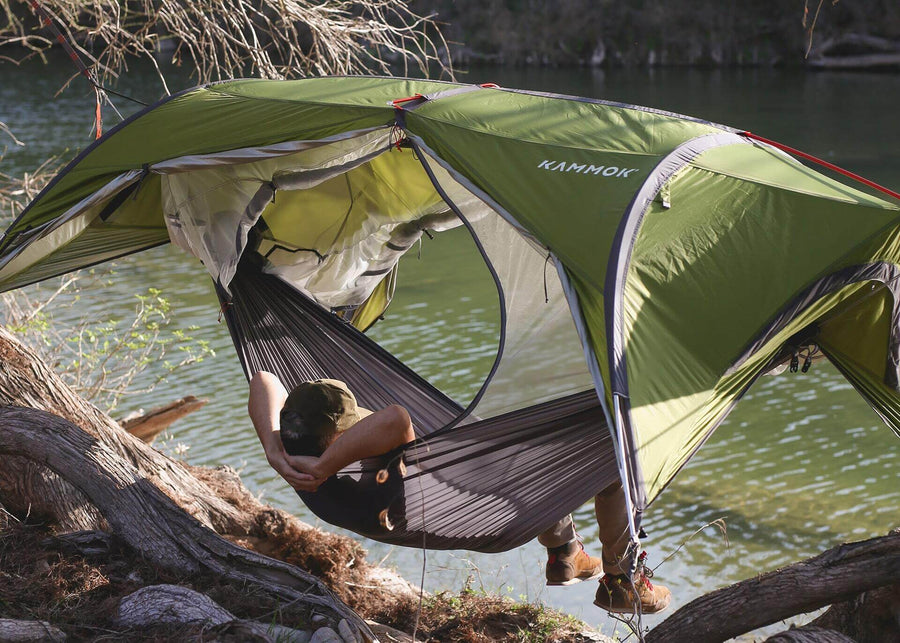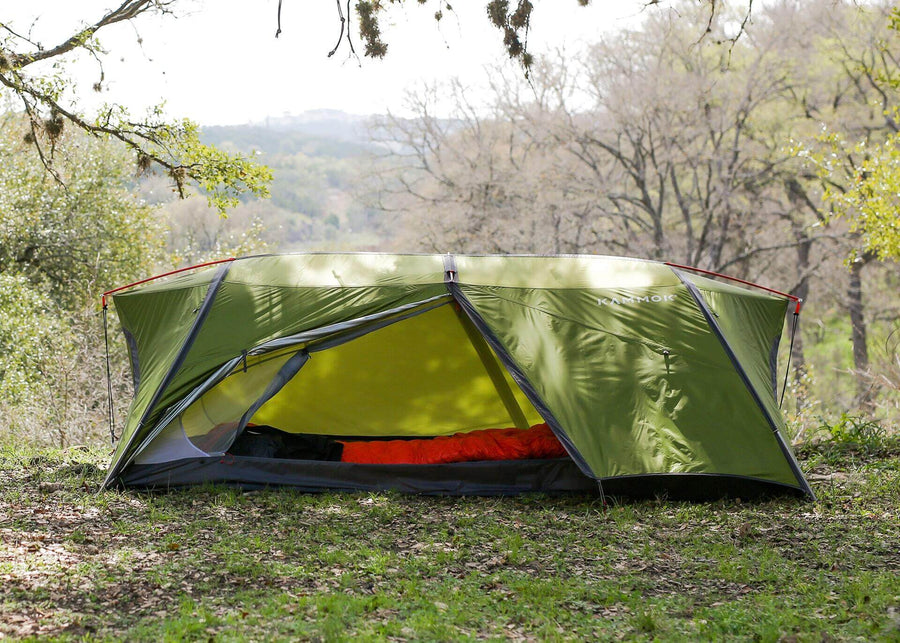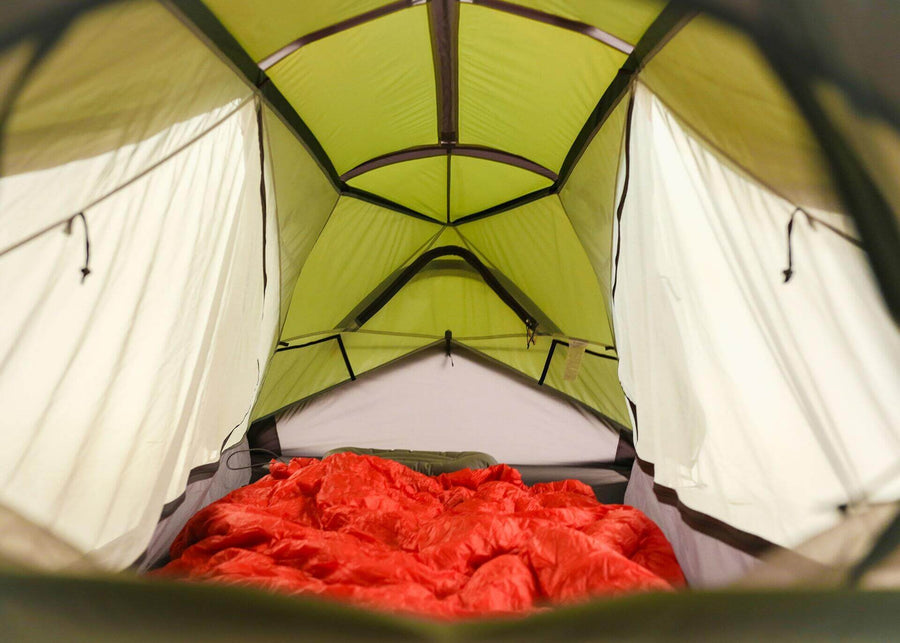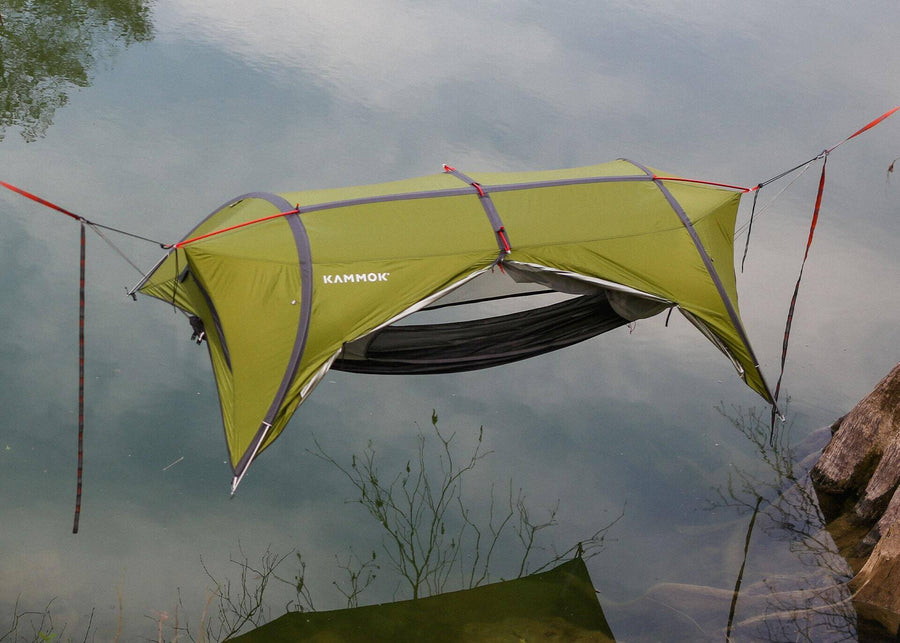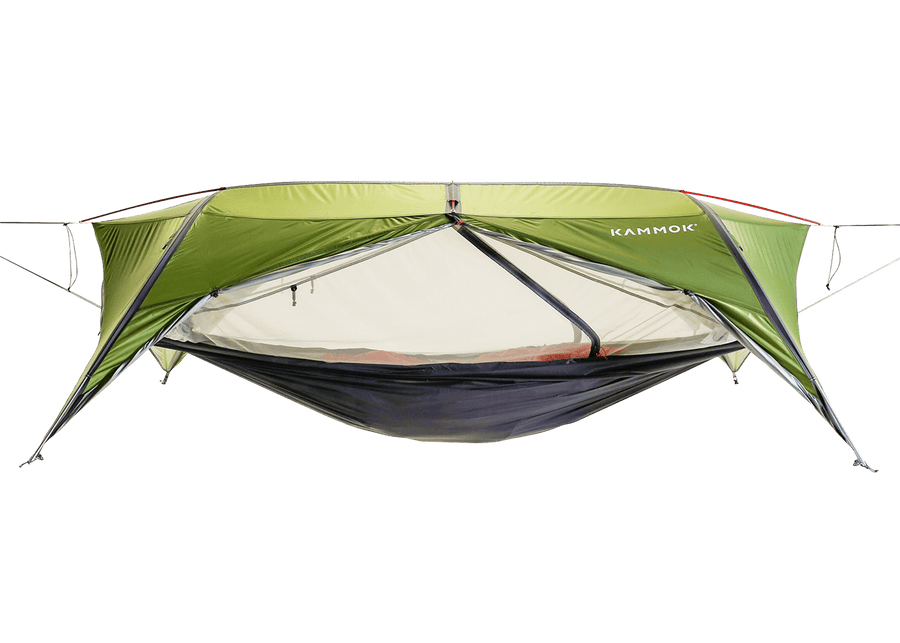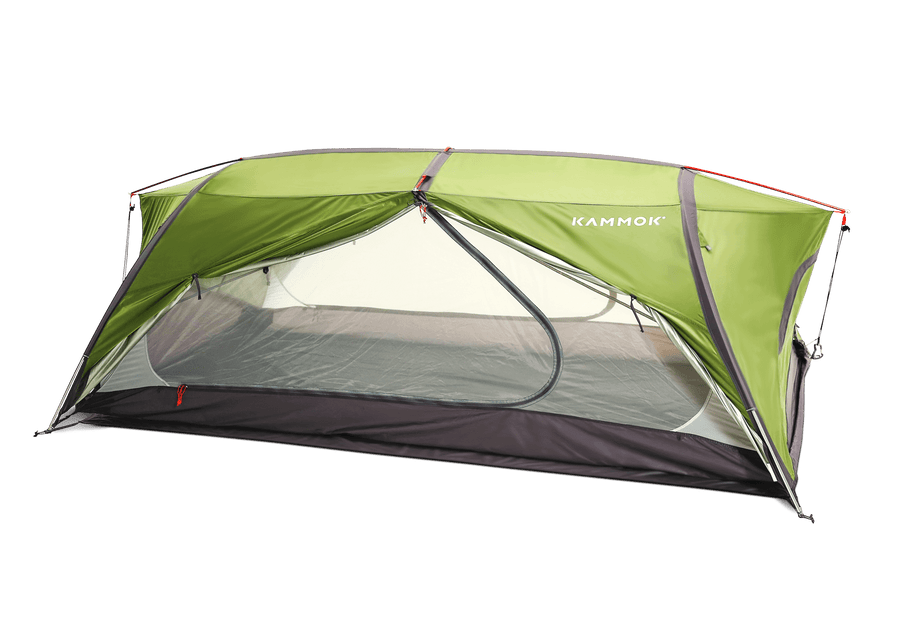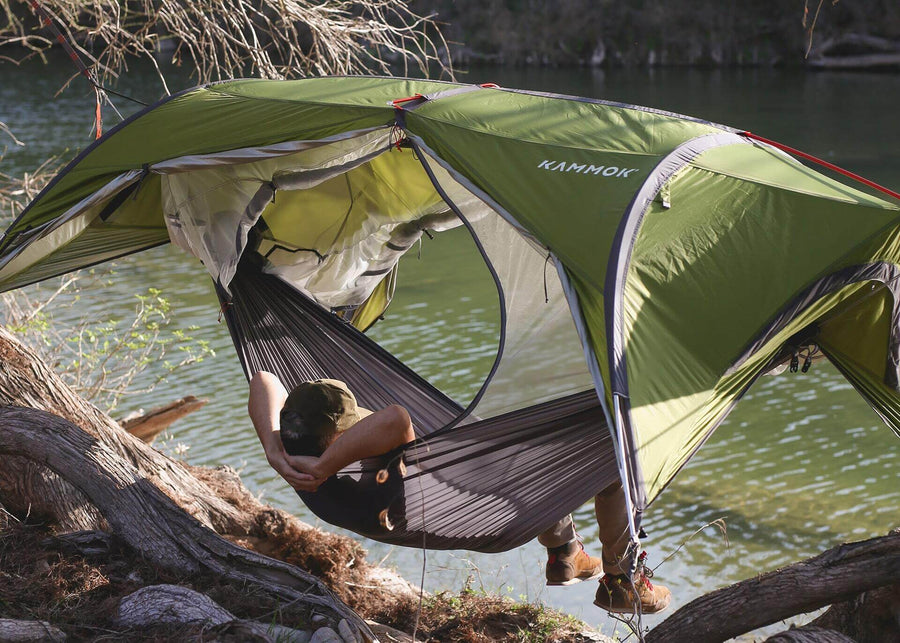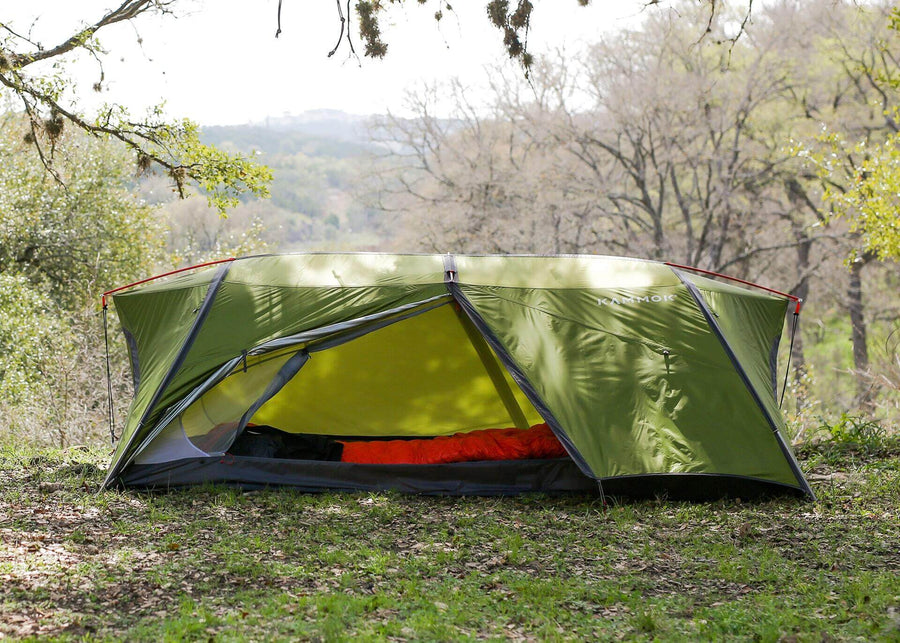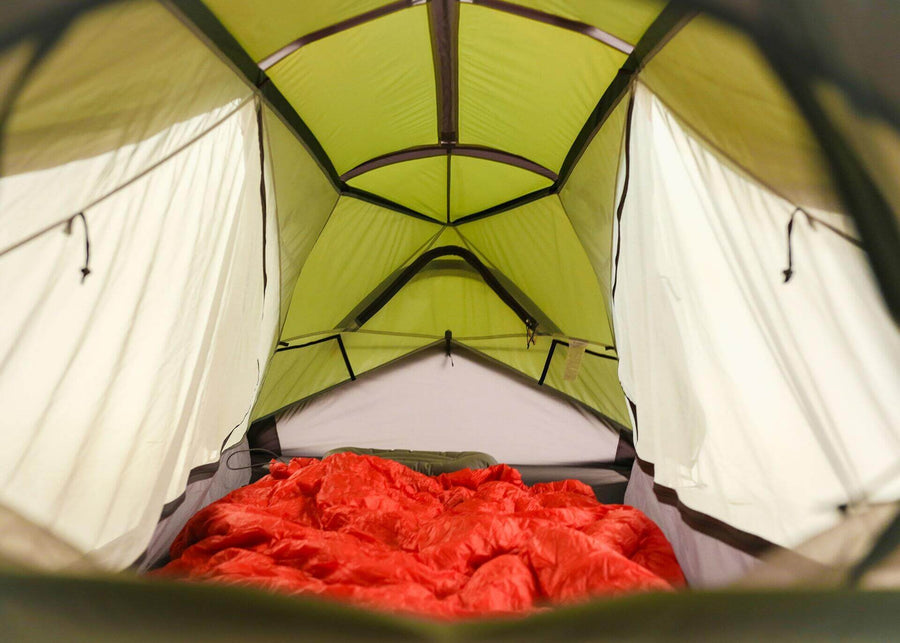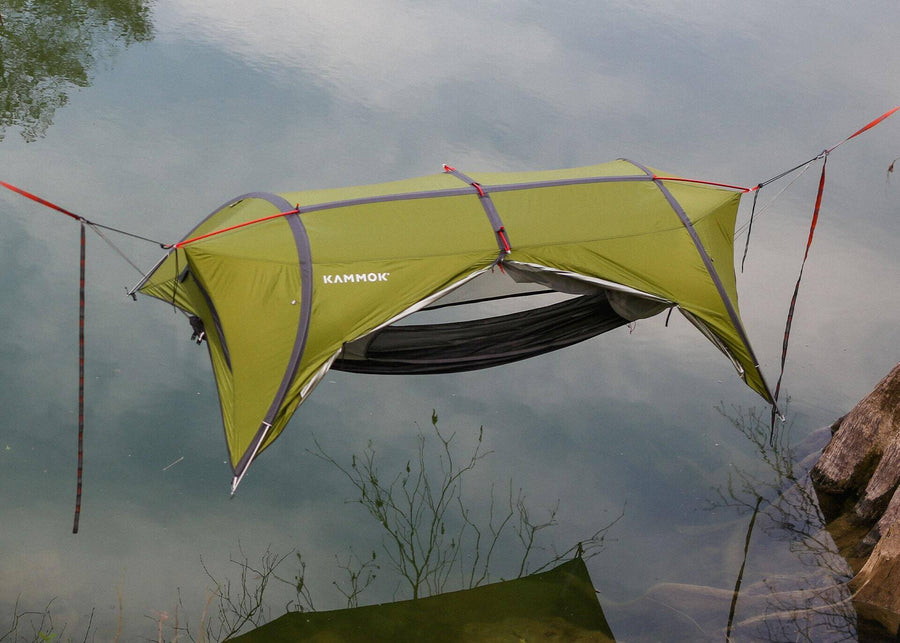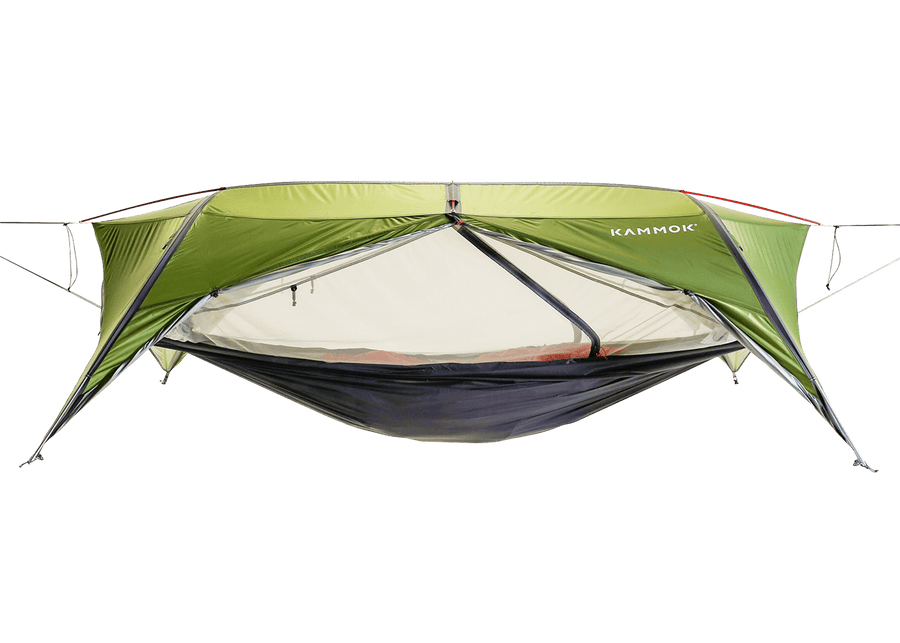 Black Friday 25% Off
Sale price
$314.97
Regular price
$419.95
Sunda 2.0 is an innovative backpacking tent designed to convert to an all-in-one hammock. Incredibly versatile and easy to use, you're equipped to camp on the ground or in air. Sunda 2.0 pairs lightweight, weather durable materials with a volume amplifying pole architecture to create a reliable and spacious home on the trail across any terrain.
Successfully funded on Kickstarter in Spring 2020.
All-weather
Durability
Versatile
Design
Spacious
Interior
Easy
Setup
The first 2-person ground-to-air tent, reimagined. Sunda 2.0 adapts to your needs in any terrain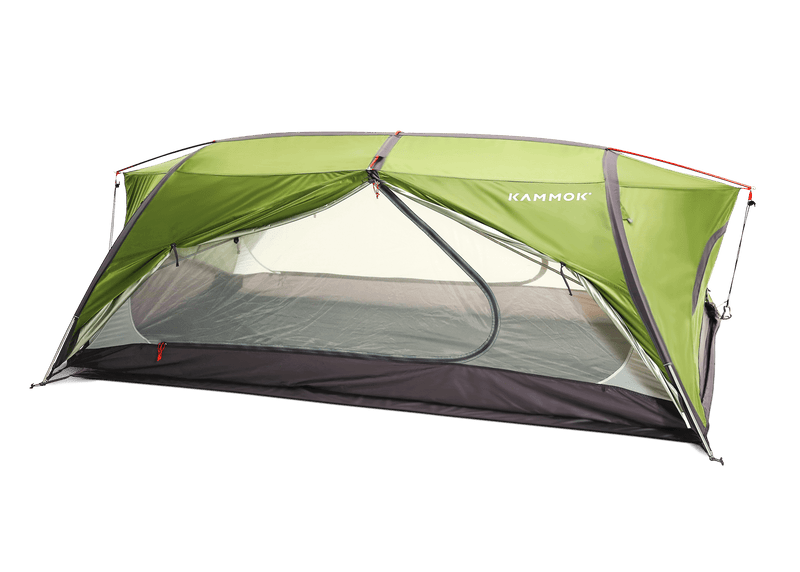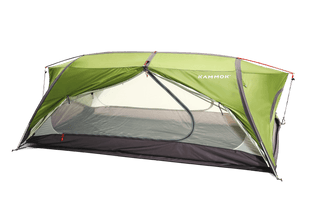 Black Friday 25% Off
Sale price
$314.97
Regular price
$419.95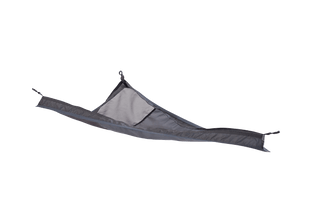 Black Friday 25% Off
Sale price
$26.25
Regular price
$35.00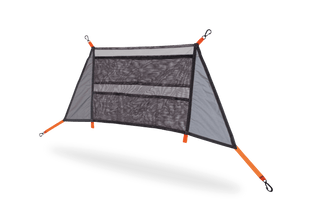 Black Friday 25% Off
Sale price
$22.50
Regular price
$30.00
Watch this video to learn more about Sunda 2.0.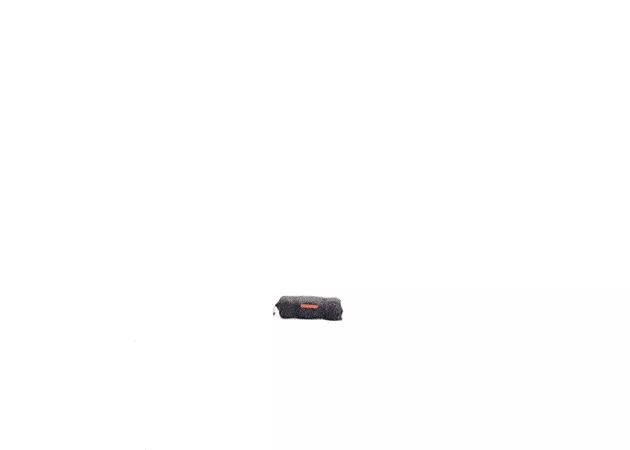 New lightning-fast setup and transition design provide a seamless user-friendly experience to transition from ground tent to hammock in less than 60 seconds.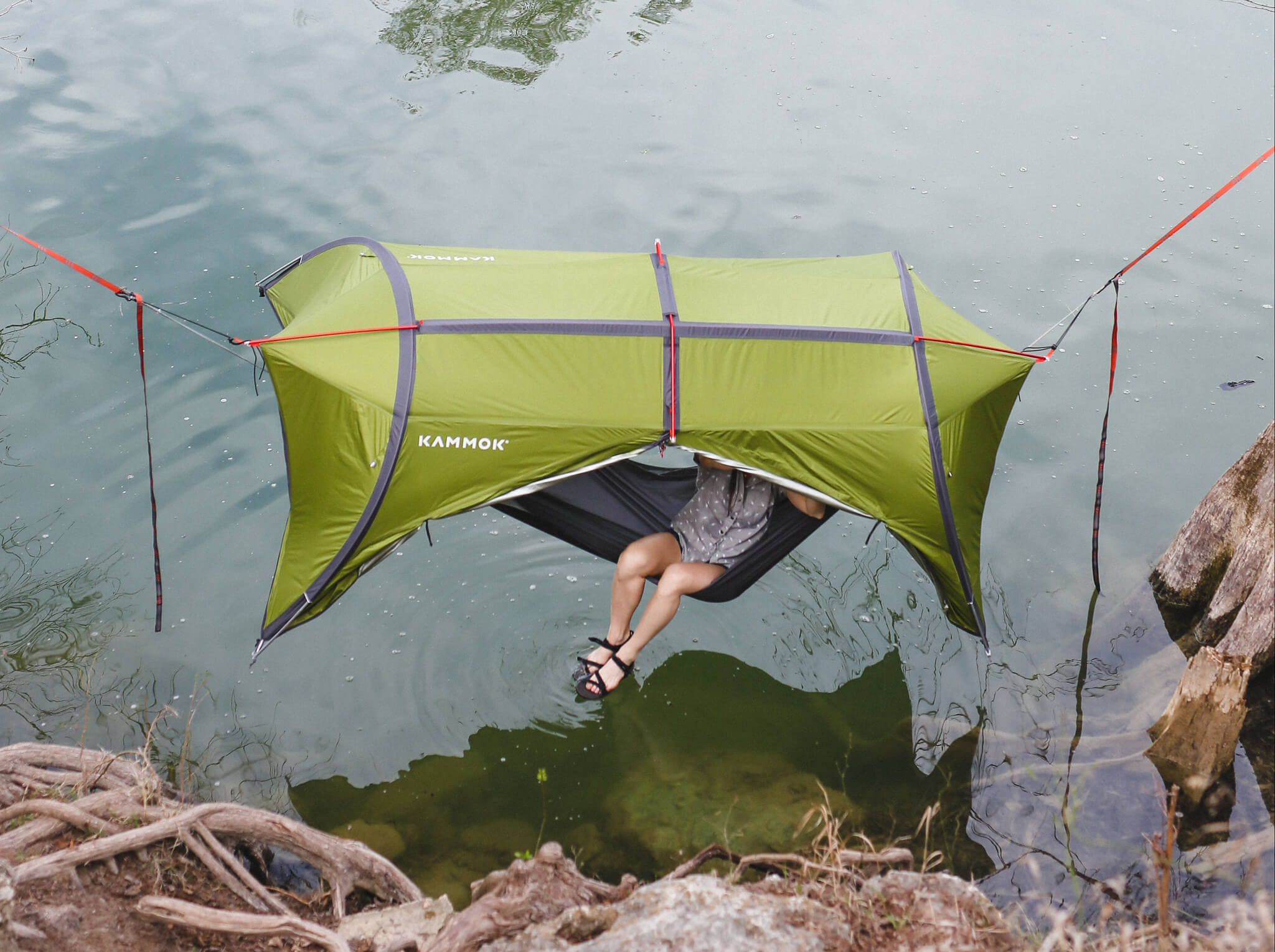 A unique ground-to-air convertible design and a 3-season tent, Sunda 2.0 is incredibly versatile to camp through multiple seasons and various landscapes.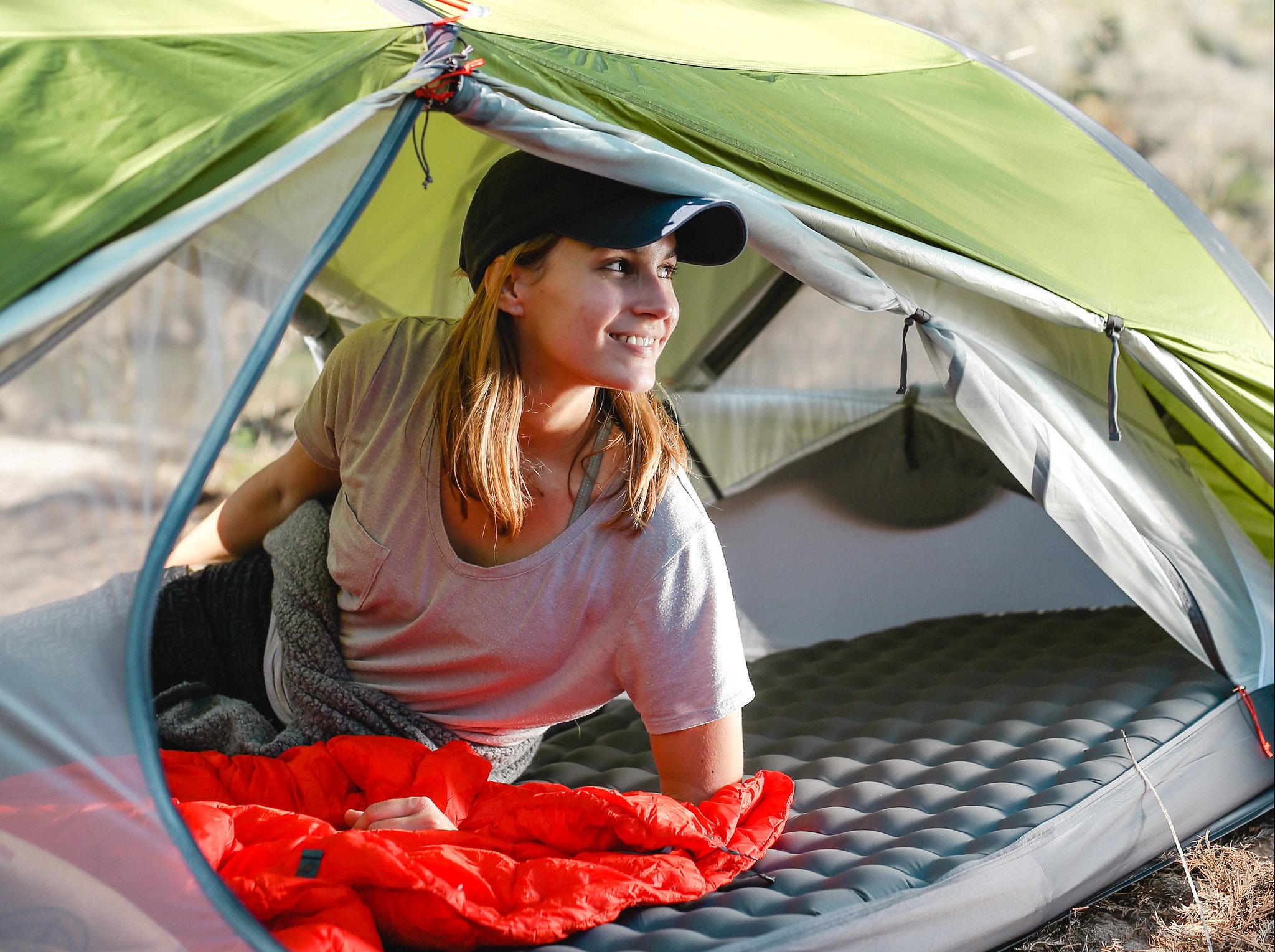 Sunda 2.0 features industry-leading materials paired with technical design and long-lasting performance for backcountry camping.
Cavernous interior space
With 34.75 sq ft of vast interior living space, Sunda 2.0 has room for two adults plus all your gear, kids, or dogs. Steep side walls and unique flat ridgeline create a cavernous interior space and peak sit-up height of 38 in that extends the full 8 ft length of the tent.
All-weather durability
An integrated rainfly, waterproof bathtub floor, and high-quality Bemis™ seam tape provide weatherproof protection against heavy downpours. For Sunda 2.0, the redesigned rainfly eliminates excess weight and allows for set-up in a fraction of the time.
Comfort and liveability for the backcountry
Two large tent doors offer easy in-and-out access in tent and hammock mode. Interior gear loops and four built-in side pockets provide organization to store maps, journals, or late-night snacks. Two larger vestibules provide additional dry storage.
Amplified airflow and visibility
Sunda 2.0 features katabatic venting to ensure maximum cross-ventilation opportunities for cooler breezes to pass through the tent, or warm, humid air to dissipate before turning to condensation. Two fly and tent body windows and tie back points at each entry allow for unobstructed peripheral visibility out of the tent and amplified airflow.
Lumos™ light-enhancing fabric
The integrated rainfly is built with our specialized Lumos™ fabric to provide versatility beyond waterproof protection. From the interior, Lumos™ acts as a light enhancing fabric to amplify the performance of a single light source for a brilliant glow at night.
Included
Sunda 2.0
1 x Sunda 2.0 (rainfly attached)
1 x set of poles (2 Silver, 1 Long red, 1 Short red)
1 x Footprint
2 x Python 10 Straps
1 x Main stuff sack
2 x Mini Kanda Claw carabiners
6 x DAC stakes
6 x adjustable guyout cords
Best Used for
Camping, Backpacking
Materials
Tent Floor / Hammock Body/ Stuff Sack
40D Ripstop nylon PU 2000mm, DWR
Tent Wall Mesh
NanonetTM 15D nylon leightweight mesh
Tent Wall Fabric / Interior Pockets
15D Ripstop nylon, water-resistant (C6 coating), Fire-resistant (CPAI-84)
Rainfly
LumosTM 20D polyester ripstop, silver coated interior PU coating 1200mm, fire-resistant
Frame
DAC Aluminum poles
Footprint
40D Nylon PU 2000mm, DWR
Weights
Trail Weight
4 lb 3.5 oz / 1.91 kg
Total Packed Weight
6 lb 2.5 oz / 2.79 kg
Component Weights
1 x Tent + Attached Rainfly
4 x Poles
1 x Footprint
1 x Stuff sack
2 x Python Straps
6 x Cord
6 x DAC Stakes
1 x Suspension w/ Carabiners
Dimensions
Tent Mode
Tent Dimension
L 100 x W 50 x H 38 in
L 254 x W 127 x H 96.5 cm
Peak Height
Floor
L 100 x H 50 in
L 254 x W 127 cm
Floor Area
Vestibule Area
Hammock Mode
Hammock Dimension
L 100 x W 50 in
L 254 x W 127 cm
Ridgeline Length
Packed Dimensions
L 7 x W 7 x H 19 in
L 18 x W 18 x H 48.3 cm
Additional Specs
Modes
Tent mode, hammock mode
Seasons
3
Tent doors
2
Tent Shape
Rectangle
Footprint
Included
Side Windows
2
Rainfly tiebacks points
4
Interior Mesh Pockets
4
Interior Gear Loops
12
Capacity
Tent Mode
2 people
Hammock Mode
1 person
Max Weight Capacity
400 lb / 181 kg
Frequently Asked Questions
Will my underquilt attach to the Sunda 2.0?
Our Firebelly and Bobcat Trail Quilts are compatible with Sunda 2.0. The hammock body (the bathtub floor) of the Sunda 2.0 is the same size as our Roo Single (8ft long). There are gear loops along the sides of the Sunda you can snap the underquilt to.
What seasons and elements are recommend to use the Sunda 2.0 in?
In tent mode, Sunda 2.0 is primarily a three-season backpacking tent. Sunda 2.0 has more space and volume than the superlight backpacking tents. As a three-season tent, it performs well in high to lower temperatures. The tent walls are constructed with Nannoet™ mesh, so it is designed for optimal airflow rather than retention of warm air inside the tent. It is not designed for multi-day use in snowy conditions.
What temperatures do you recommend using the Sunda 2.0 in?
Although we attach temperature ratings to our sleeping bags and quilts, we do not have temperature rating for Sunda 2.0. This is standard for all tent manufacturers since warmth ratings can only be attached to insulated products designed to trap warm air pockets. As a general guideline, you should depend on your sleep system to maintain your temperature and your tent to keep you dry. The Sunda features optimized venting for increased air flow in warmer climates. For colder temperatures, the fly can be 'battened down' and completely closed.
Has the Sunda 2.0 been wind tunnel tested?
The original Sunda has been test to withstand winds up to 25 mph / 40.2 kmh. We are currently in progress of testing the Sunda 2.0 for wind stability, and anticipate a similar rating or better with the new exterior pole sleeve construction.
Is there a UV rating for the Sunda 2.0 Lumos™ tent fabric?
Yes, the Sunda tent material is UV resistant. There are no numerical UV ratings for our shelters because they're not wearable goods, however the materials used to create the Sunda are treated with a UV protectant and will deflect rays.
So it's a two person tent, but one person in hammock mode...what's the deal with that?
The Sunda 2.0 sleeps 2 people plus their gear comfortably when set up as a tent. Once it is set up in hammock mode, it's better suited for one person. It is possible to sleep two as long as you're under the 400lb weight capacity, however not ideal.
What if I don't like sleeping in a hammock, or don't think I'll ever use it in hammock mode. Is this the product for me?
The Sunda is both fully tent and fully hammock - up to you as to how your adventures take shape! Using as a tent alone is something you won't want to miss out on.
How does the Sunda 2.0 in hammock mode compare to the other hammocks you sell?
Sunda 2.0 is a fully enclosed hammock shelter. Compared to our stand-alone hammocks, it is heavier. Where the Sunda stands apart is how it seamlessly integrates everything you need to stay dry and protected from the elements. There's no extra time spent setting up a rainfly or bug net separately.
Sunda 2.0 can only be set up in hammock mode with the rainfly and pole structure in place, versus the stand-alone Roo Double and Single hammocks. The material is also different. Our Roo hammocks are made with an uncoated 40D diamond ripstop nylon; the Sunda uses a PU coated 40D ripstop nylon fabric. This means that the Sunda hammock will sleep warmer, but is the best material for both the tent and hammock modes. We still recommend you use a trailquilt when camping in cooler climates.