Shelters
A place to call home when you're miles away. Set up shelter from storms and shade to hide from rays with our Kuhli tarps and all-in-one camping systems.
Featured
Best Selling
Price Ascending
Price Descending
Date Ascending
Date Descending
Name Ascending
Name Descending
Mantis UL
Lighter than a one-person tent
Everything you need
Bug net, rainfly & hammock
Ultralight Fabrics to Lighten Your Load The Mantis Ultralight™ is created from Levitas™ 20D nylon ripstop, the strongest, lightest hammock fabric in its class. The Mantis Ultralight's Python Ultralight straps are constructed with SpiraLine™ are 15 times stronger than steel and light...
360º protection The Dragonfly surrounds your hammock like a cocoon to provide complete protection from disease-carrying insects.  Ultimate space and visibility Cavernous interior space provides plenty of headroom between you and the Dragonfly while sitting up, so you can enjoy...
6 J-Stakes with reflective cord loops The Stake Pack offers 6 J-Stakes with reflective cord loops to keep your camp gear grounded, as long as you'd like. Stake out your tent, hammock, blanket, or weather shelter for security through wind...
No more knots The Cord Pack is for easy gear repairs or creatively solving problems around camp – no knots needed. Our Minnow Clips™ make it possible to upgrade existing products, or add length to your weather shelter, with –...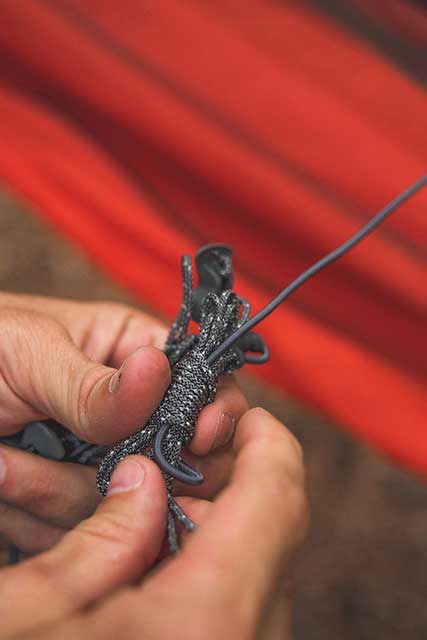 Efficient organization The Gear Loft utilizes the peaks of the Mantis hammock tent to maximize the available space and your storage capabilities. Sized for slightly bulkier items, the Gear Loft is the perfect place for essentials that don't fit in...