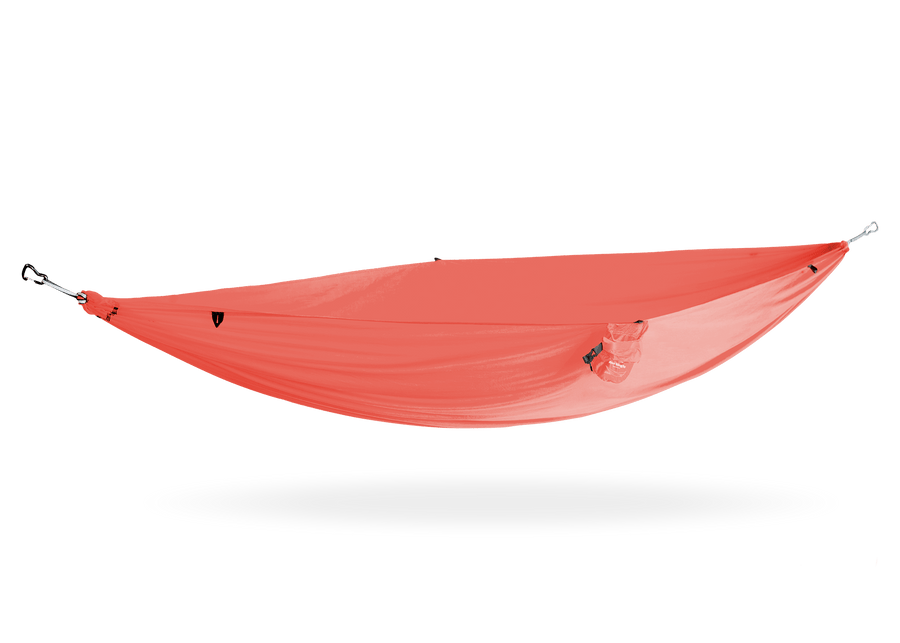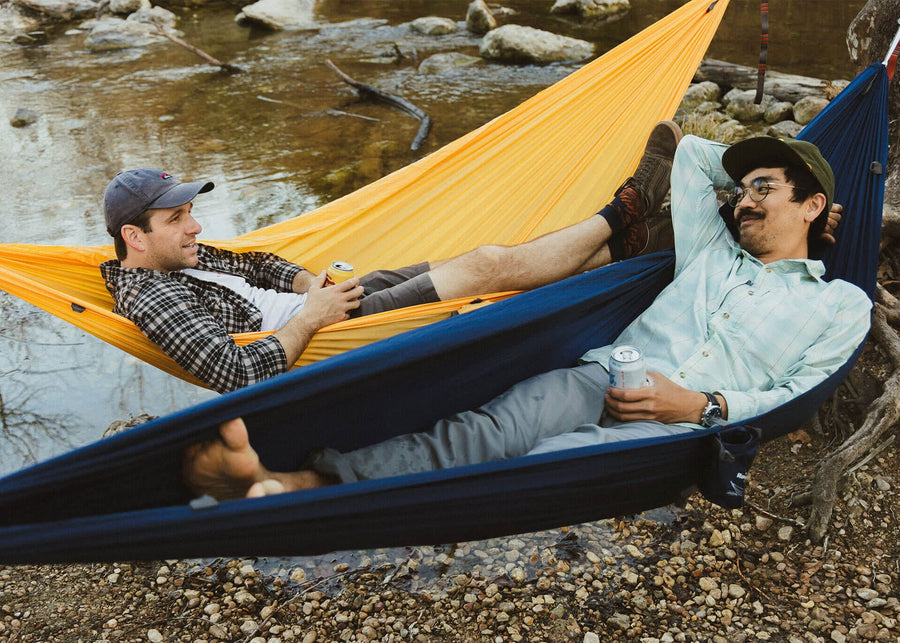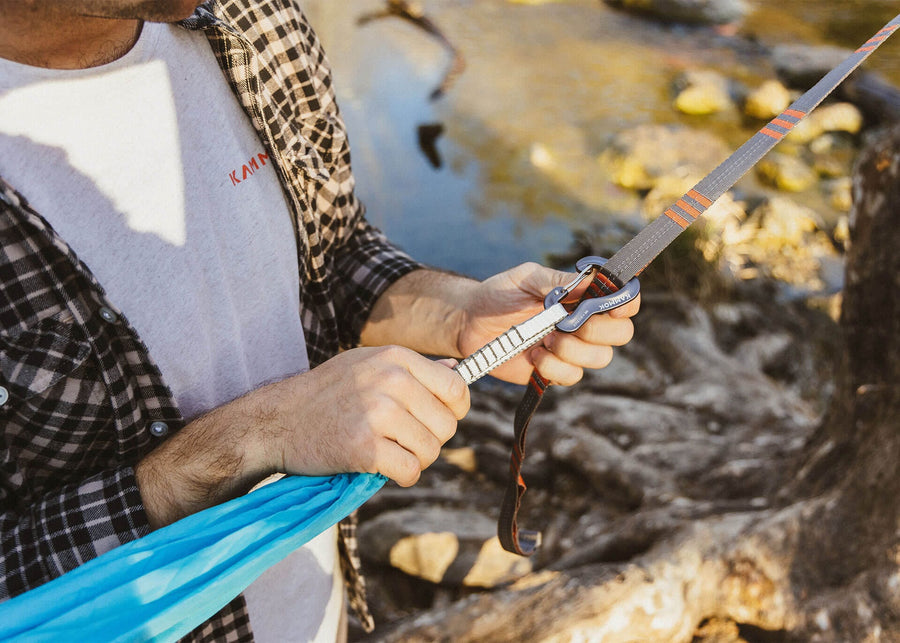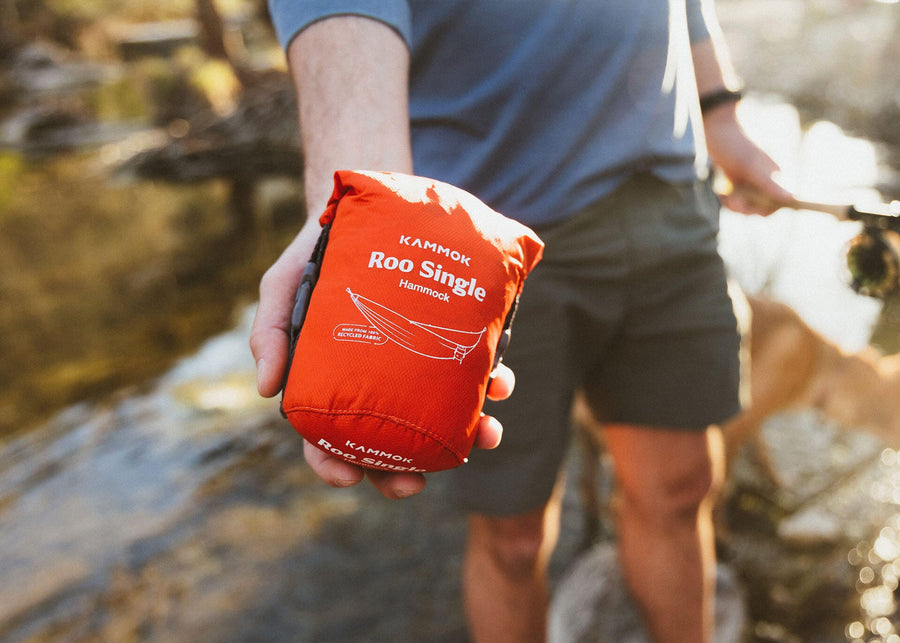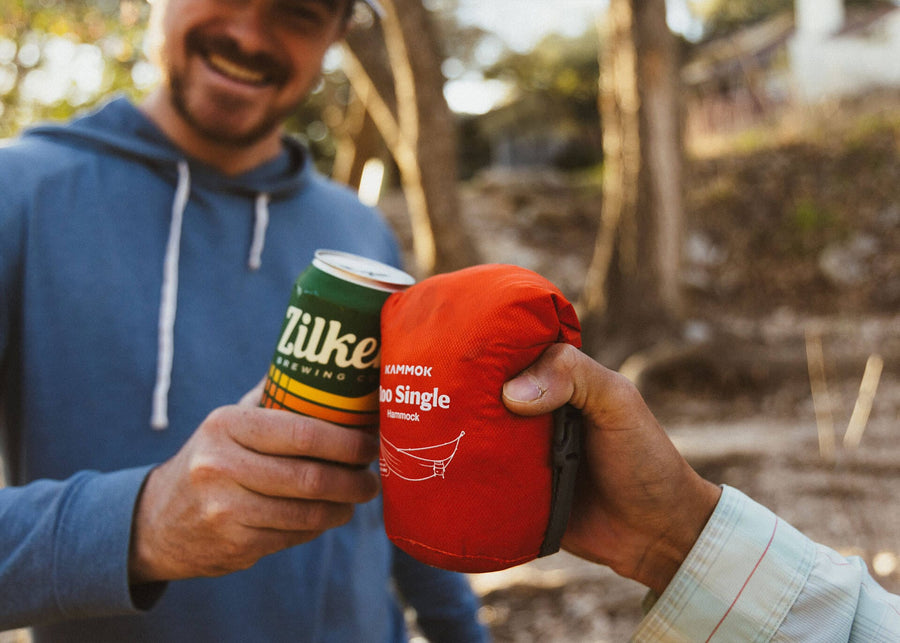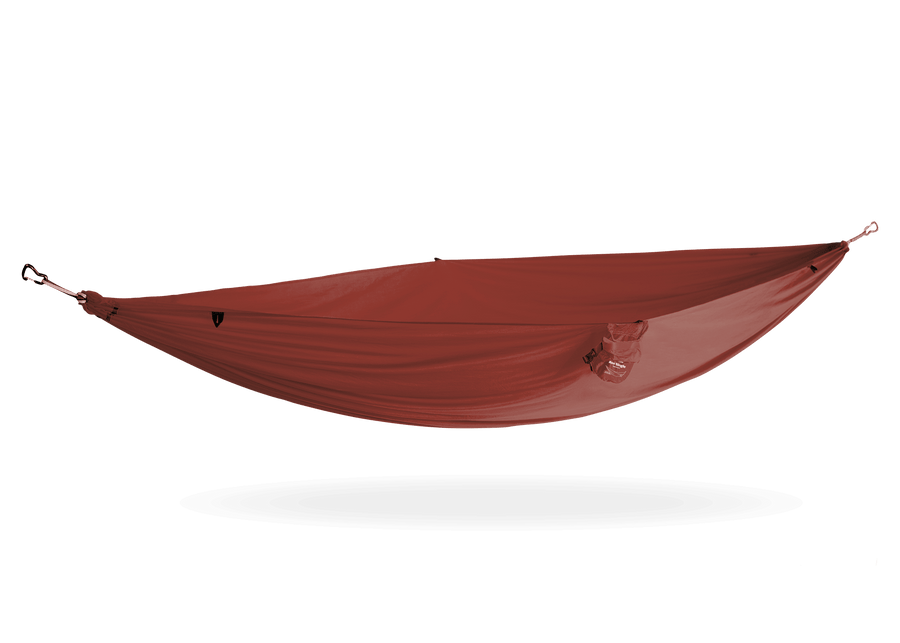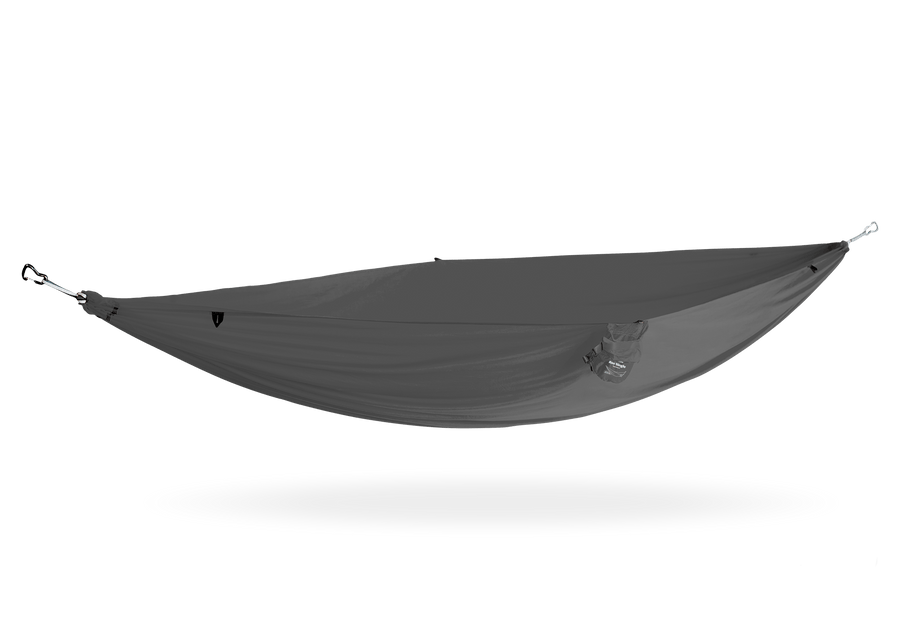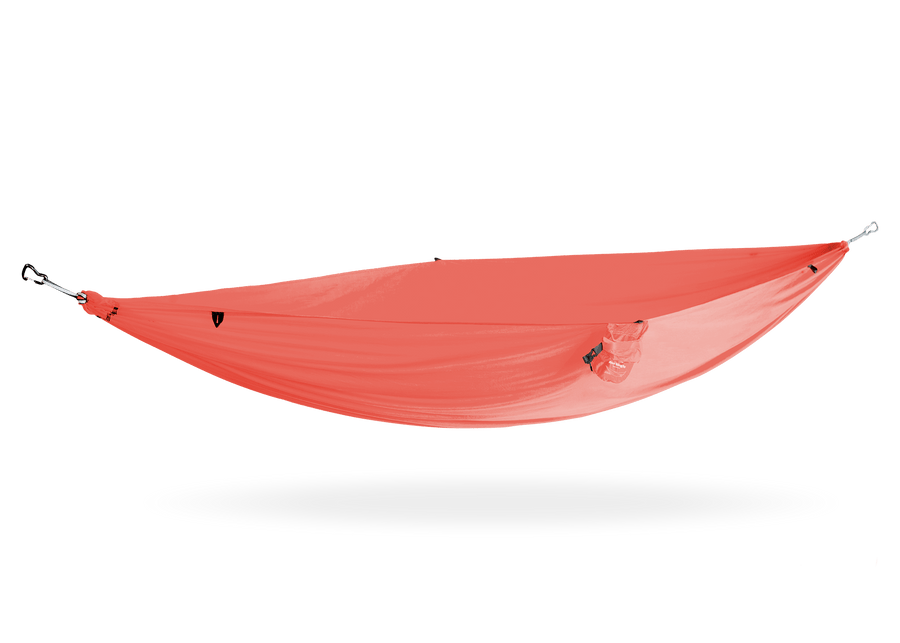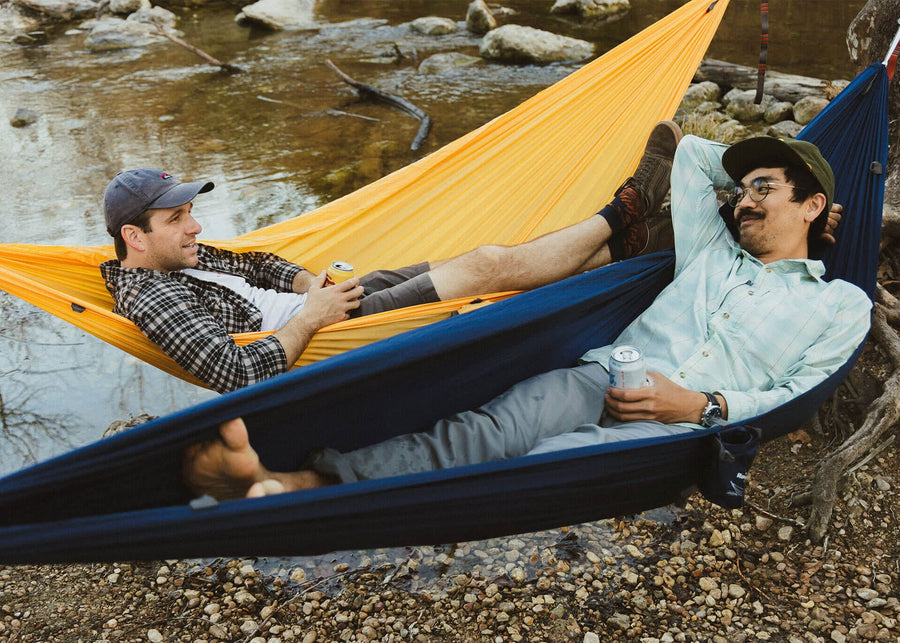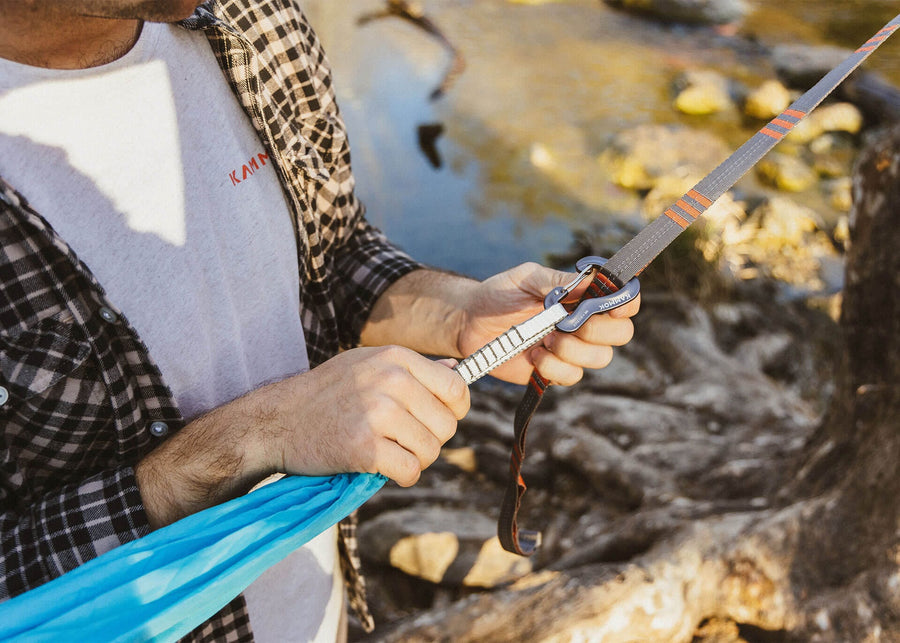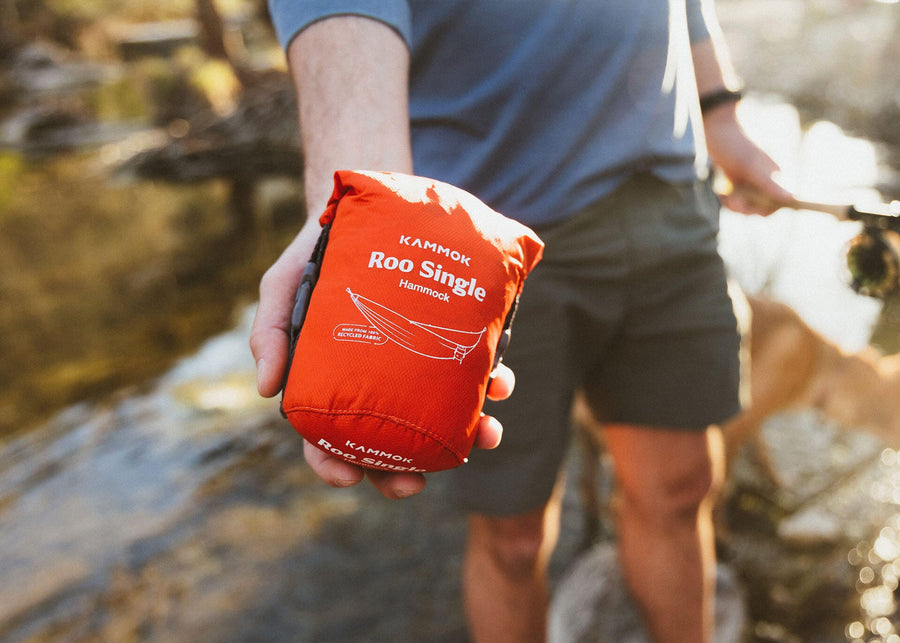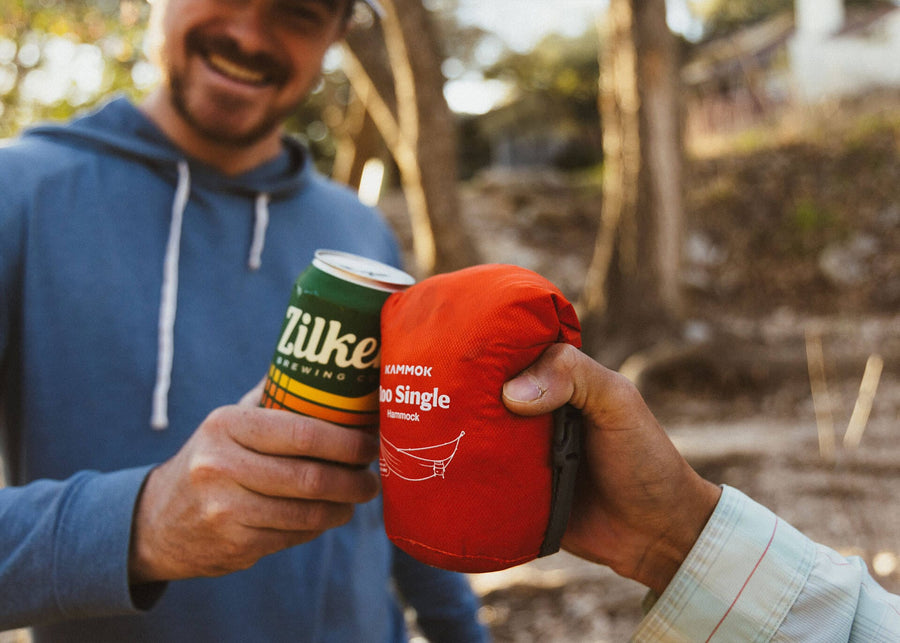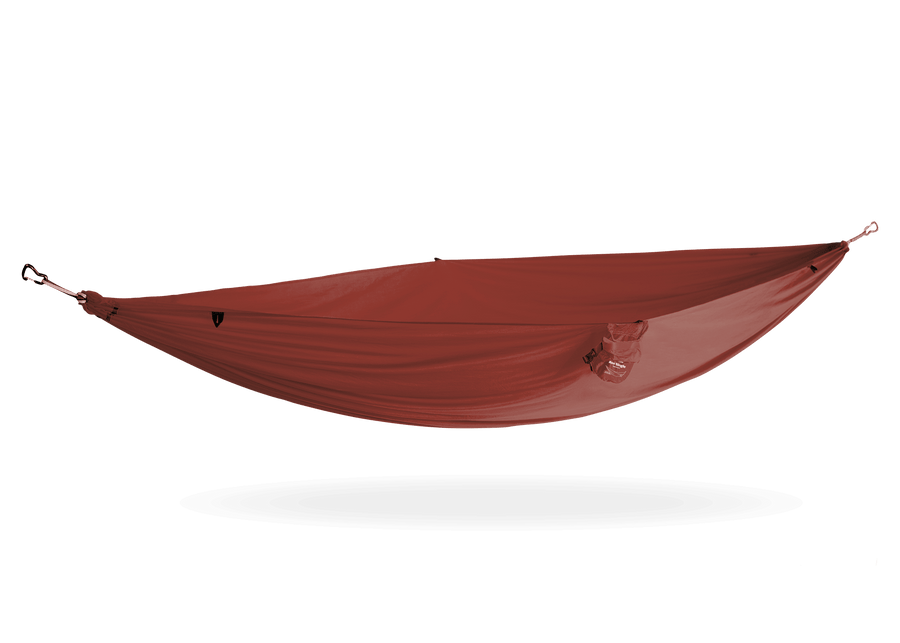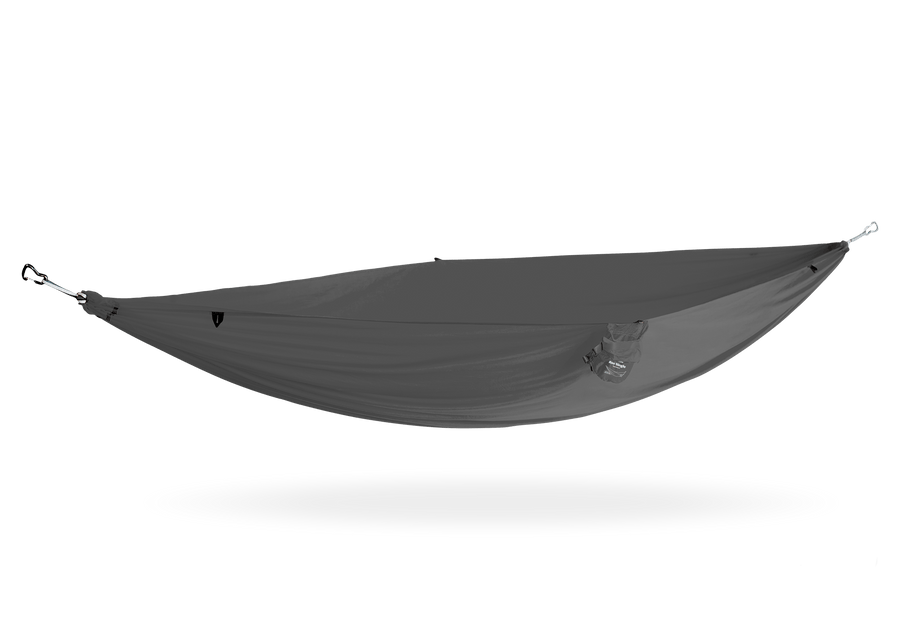 Roo Single
Camping hammock
Black Friday 25% Off
Sale price
$56.22
Regular price
$74.95
Constructed with incredibly strong and 100% recycled, bluesign® approved fabric, the Roo Single camping hammock weighs just 11.4 oz and holds up to 500 pounds.
100% Recycled,
bluesign® Approved Fabric
Industry Leading
500 lb Capacity
Water-Resistant
Ripstop Fabric
Cloud Nine
Comfort
When all you need is a cold beverage and some shuteye, take a load off with the built-for-one Roo Single.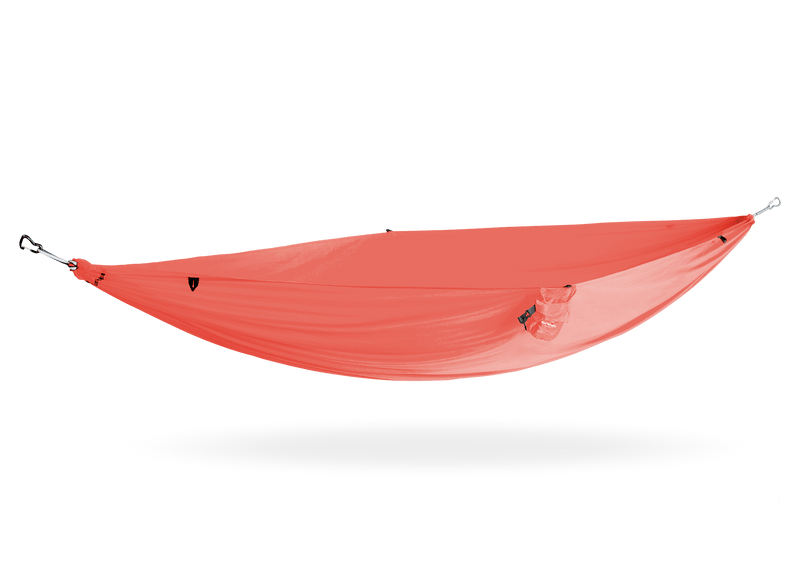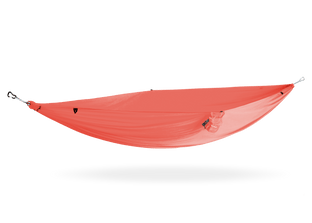 Black Friday 25% Off
Sale price
$56.22
Regular price
$74.95
Black Friday 25% Off
Sale price
$22.47
Regular price
$29.95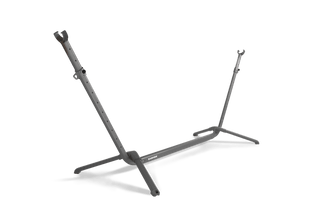 Sale price
$299.95
Regular price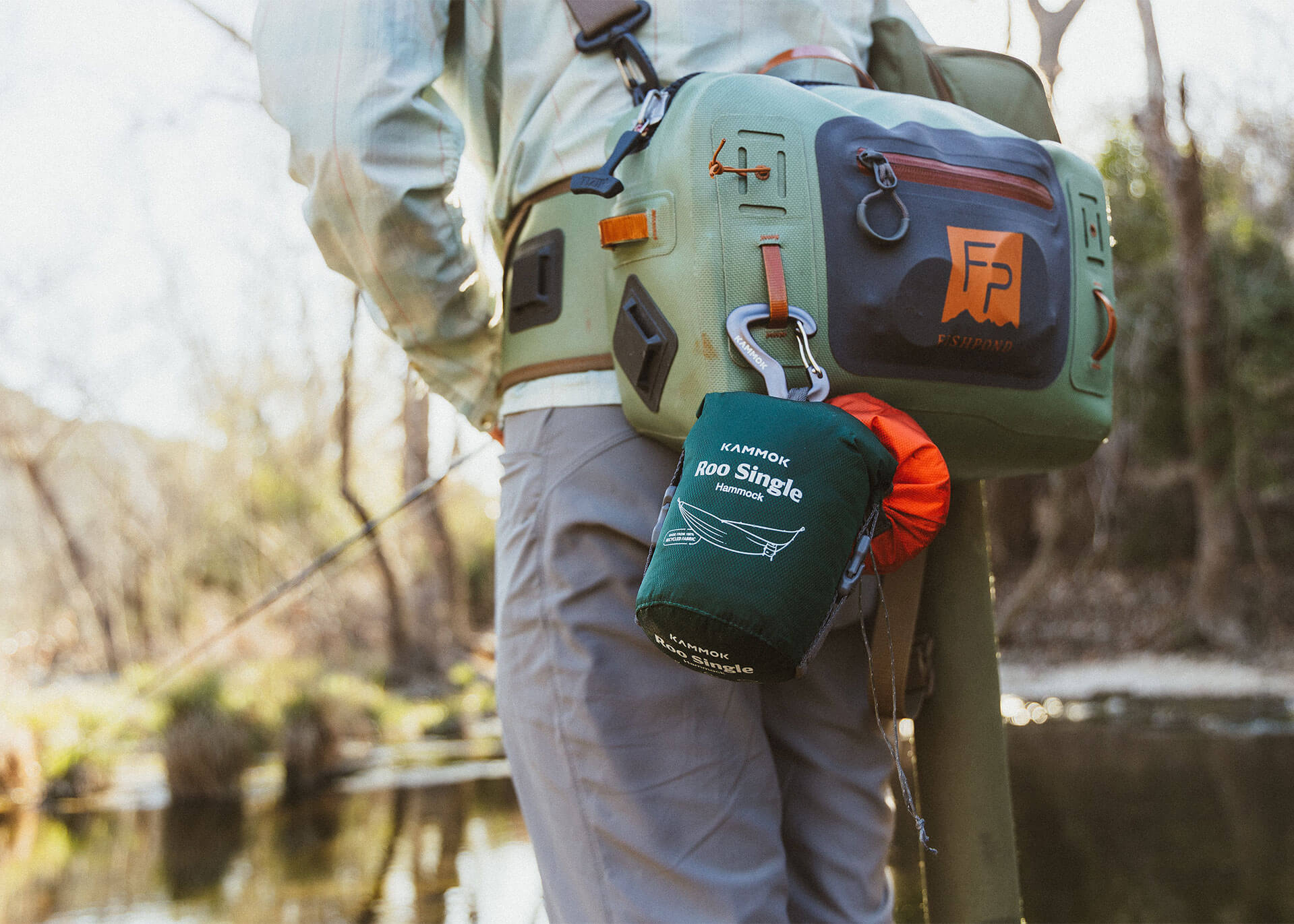 Shave some pack weight and save space with Roo Single—the most trusted hammock for solo adventures.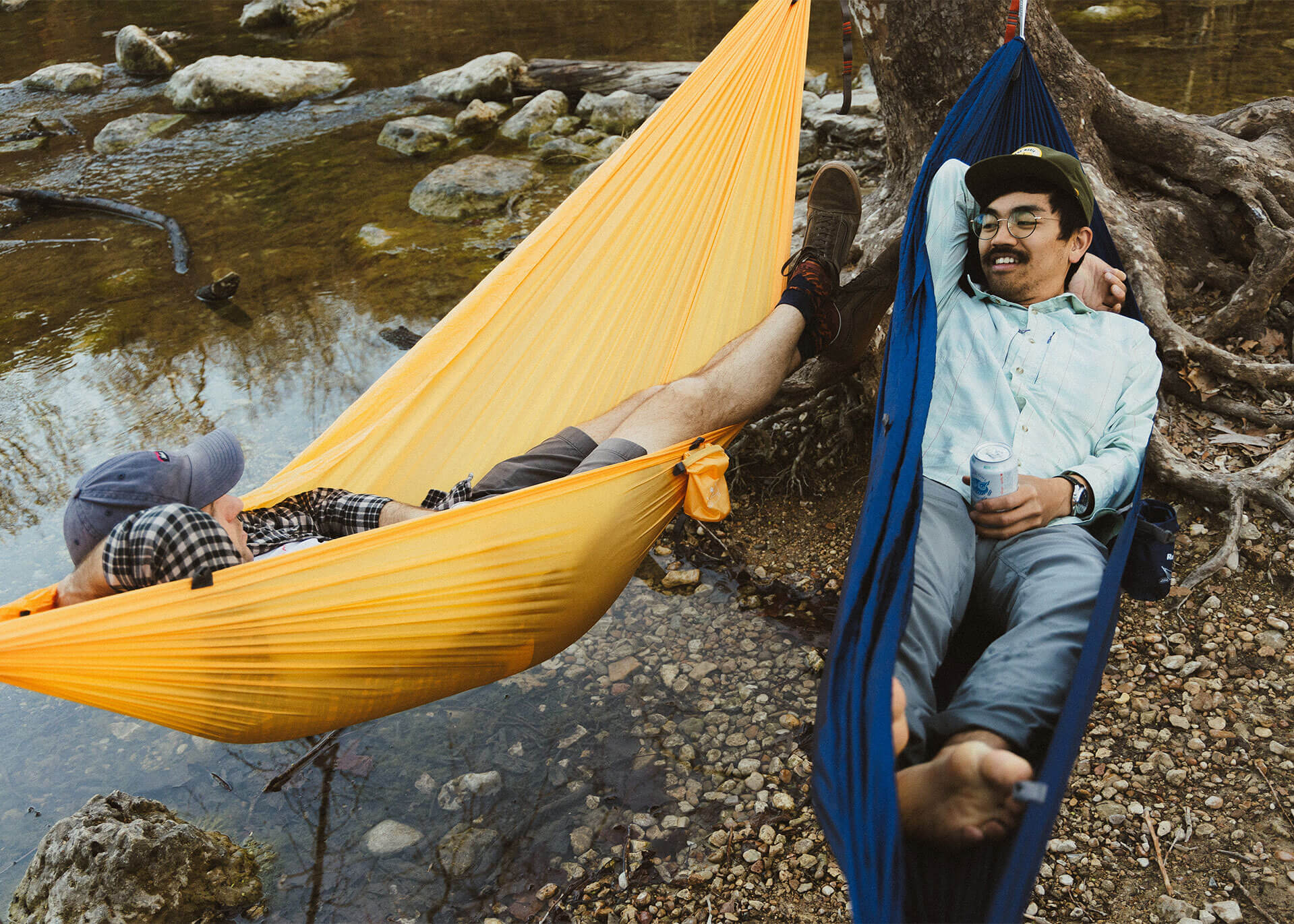 Roo Single can safely hold up to 500 pounds. That's the same as 100 chickens, 166 bottles of whiskey, or ten standard push mowers (which we don't recommend).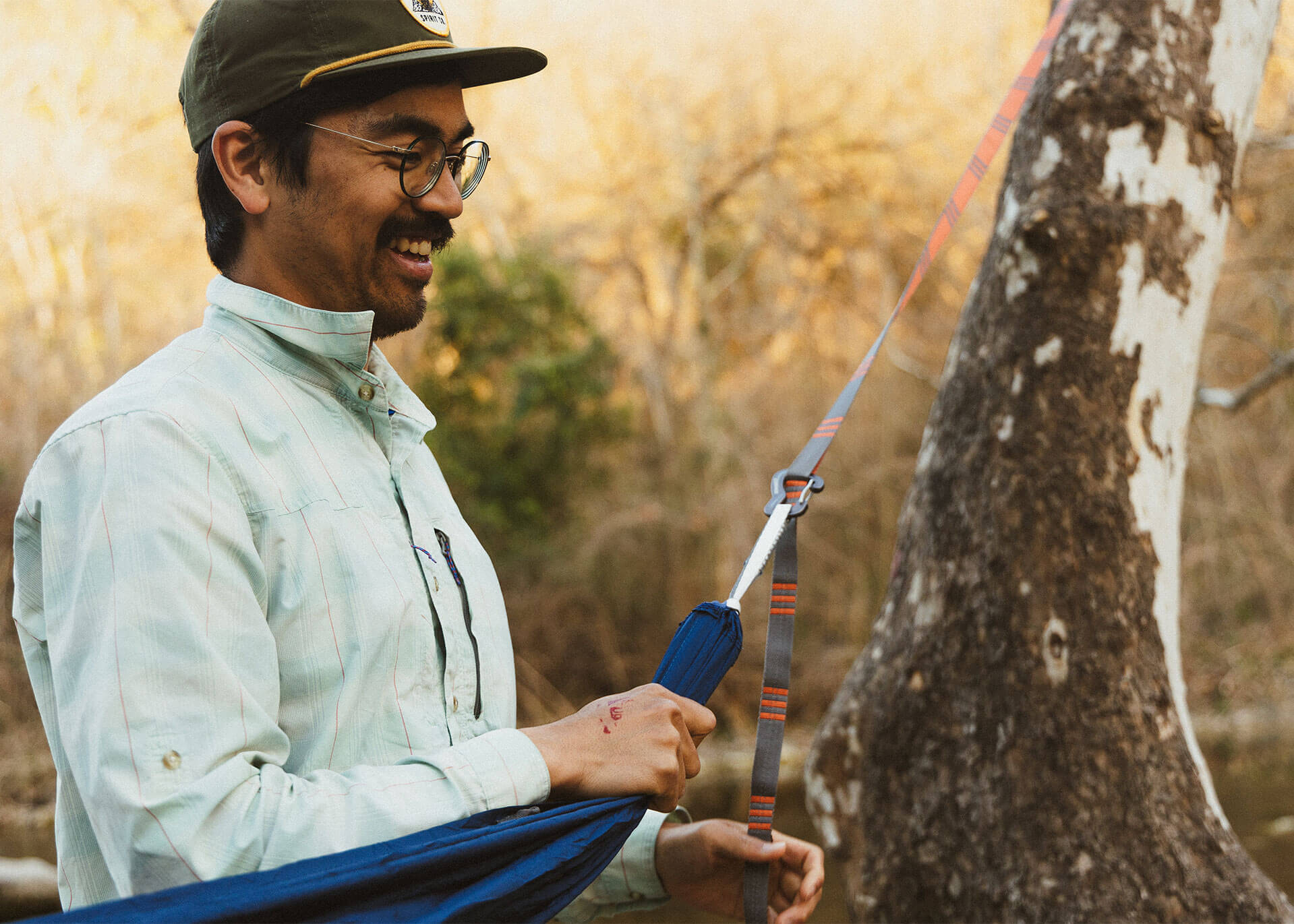 Our buttery-soft, GravitasX™ fabric is 100% recycled, bluesign® approved, and made with pre-consumer waste that would otherwise be discarded as trash.
Comfort is Key
Roo Single was designed for quiet moments of restful solitude. Made with our patented GravitasX™ fabric, this compact hammock is buttery soft, water-resistant, and incredibly breathable. We promise you won't find another one-person hammock nearly as comfortable as this.
Customize Your Hang
We designed all of our camping hammocks to seamlessly integrate with our broad lineup of accessories to elevate your outdoor experiences. With eight gear loops along the side of our hammocks, you can attach a pillow, snap in sleep insulation like our Firebelly 30 trail quilt, or simply keep small items off the ground.
Compact for Travel
The Roo Single hammock neatly packs into an attached roll-top, water-resistant stuff sack about the size of a can of beer. Keep it in your day pack or the backseat of your car, and you'll always be ready to hang.
Engineered Strength
When we set out to make our Roo Single, we refused to compromise on strength and durability. That's why we're leading the industry with a weight capacity of 500 pounds. Our GravitasX™ 40D diamond ripstop nylon fabric ensures the safest sleep off the ground.
Climbing-grade Suspension
Setup takes seconds with our patented, climbing-grade Kanga Claw™ carabiners. You can rest at ease knowing each of these small but mighty carabiners is capable of supporting up to 4,720 pounds of force.
Responsibly Made
The nylon fabric used to create our Roo Single is 100% recycled and bluesign® approved. That means not only are we lowering our carbon footprint, but we're also ensuring the safety of our factory workers and customers by guaranteeing that no harmful dyes or chemicals are used to create this product.
Adventure Grade Guarantee
As always, our Roo Single is backed by our lifetime guarantee. We took material bound for the landfill and ensured that it lived on in a high-quality product that will stand up to the test of time.
Included
Roo Single Recycled Hammock
1 × Roo Single Recycled™ Hammock
2 × Dyneema Racer Slings™
2 × Kanga Claws™
Hammock straps are not included.
Best Used for
Basecamp hammock camping, backpacking, and backyard lounging
Dimensions
Unpacked Dimensions
L 100 x W 50 in
L 254 x W 127 cm
Packed Dimensions
L 3.3 x W 3.3 x H 6.1 in
L 8.3 x W 8.3 x H 15.5 cm
Weight
Total Packed Weight
11.4 oz / 322 g
Capacity
Lounge Capacity
1-2 people
Max Weight Capacity
500 lb / 226.8 kg
Materials
Product Material
GravitasX™ 40D diamond ripstop nylon 100% Recycled, bluesign® approved with DWR waterproofing + crinkle treatment
Stuff Sack Material
Diamond Shell X™ 40D diamond ripstop nylon 100% Recycled, bluesign® approved with PU + DWR waterproofing
Additional Specs
Gear Loops
8
Frequently Asked Questions
Do I need to order carabiners and straps?
Each Roo Single hammock comes with a set (2) of Kanga Claw carabiners. Straps are not included. Order a set of Python 10 straps (or one of our other straps) to get your hammock off the ground and your adventure on its way.
Why are there loops along the sides of the Roo Single?
Gear loops are for quick access to gear. Attach a trail quilt, water bottle, headlamp, stuff sack, kendama, or any gear you always want ready. For hammock campers, these gear loops are an excellent way to keep your hammock underquilt or top quilt in place. Our Roo Single pairs well with our line of trail quilts—check out the Firebelly 30, Bobcat 45, and Arctos 20.
How many people can fit in the Roo Single?
The Roo Single is designed to fit one comfortably for lounging and sleeping. With a max capacity of 500 lbs, however, the Roo Single hammock can hold up to two people.
How do I wash my Roo Single?
Hand washing your hammock with cold water and Grangers Down Wash + Repel is best for extending its useful life, but it can also be cleaned in a front-load washing machine (do not use a washing machine with an agitator). Washing machine instructions:
Remove the carabiners and slings prior to wash.
If the Roo is soiled or stained, use the recommended amount of Grangers Down Wash + Repel. Do not use fabric softener, bleach, or stain removal products.
Wash the hammock by itself using the gentle/cold water setting.
Hang to dry. The hammock will dry quickly in warm/dry environment. Do not stuff back in stuff sack damp or wet.